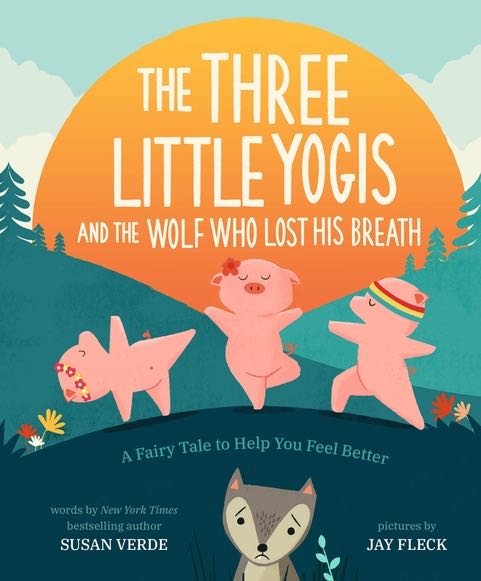 Sunday Jun 14, 2020
11:00 am - 12:00 pm
Category(ies)
RSVP required.
Please fill out the form here if you plan on attending.
PLEASE NOTE: Submitting an RSVP for this event DOES NOT guarantee entrance. This is a free-access event — entrance will be on a first-come, first-served basis. All events are hosted via Zoom. Click to register if you are interested to join, and you'll get a reminder when it's time to log in.
Order a copy of The Three Little Yogis and the Wolf Who Lost his Breath from our new website here!
_______________________
About the Book:

 
Once upon a time there lived a wolf who lost his huff and his puff. It was a BIG, BAD problem! One morning, the wolf came upon a peaceful little yogi doing sun salutations. The wolf wanted to huff and puff and blooow her hut down into a big pile of straw. But instead the yogi suggested, "Let's meditate on that!"
Soon the wolf met a second yogi, and then a third. He may have lost his huff and puff—but with the help of three new yogi friends, can the wolf find his breath?
_________________________________________________________________
About the Author: 
Susan grew up in the heart of Greenwich Village in NYC. As a kid she kept a piece of chalk in her pocket (for spontaneous hopscotch) and her skate key around her neck, ready for the next adventure. She found inspiration everywhere and loved to write all about it!
Now Susan lives by the sea in East Hampton, New York with her 3 children and their dog, Gizmo. She still finds inspiration everywhere and writes it all down!
In addition to writing books for kids she also teaches yoga and mindfulness to children of all ages. She is a yogi herself and is still working on her headstand.
Her award-winning stories ranging from museum visits and yoga to lifelong friendships and hope celebrate the unique voices and experiences of kids and inspire adults to let their own inner child out…maybe for a spontaneous game of hopscotch every now and then. Susan's books have been translated into multiple languages.