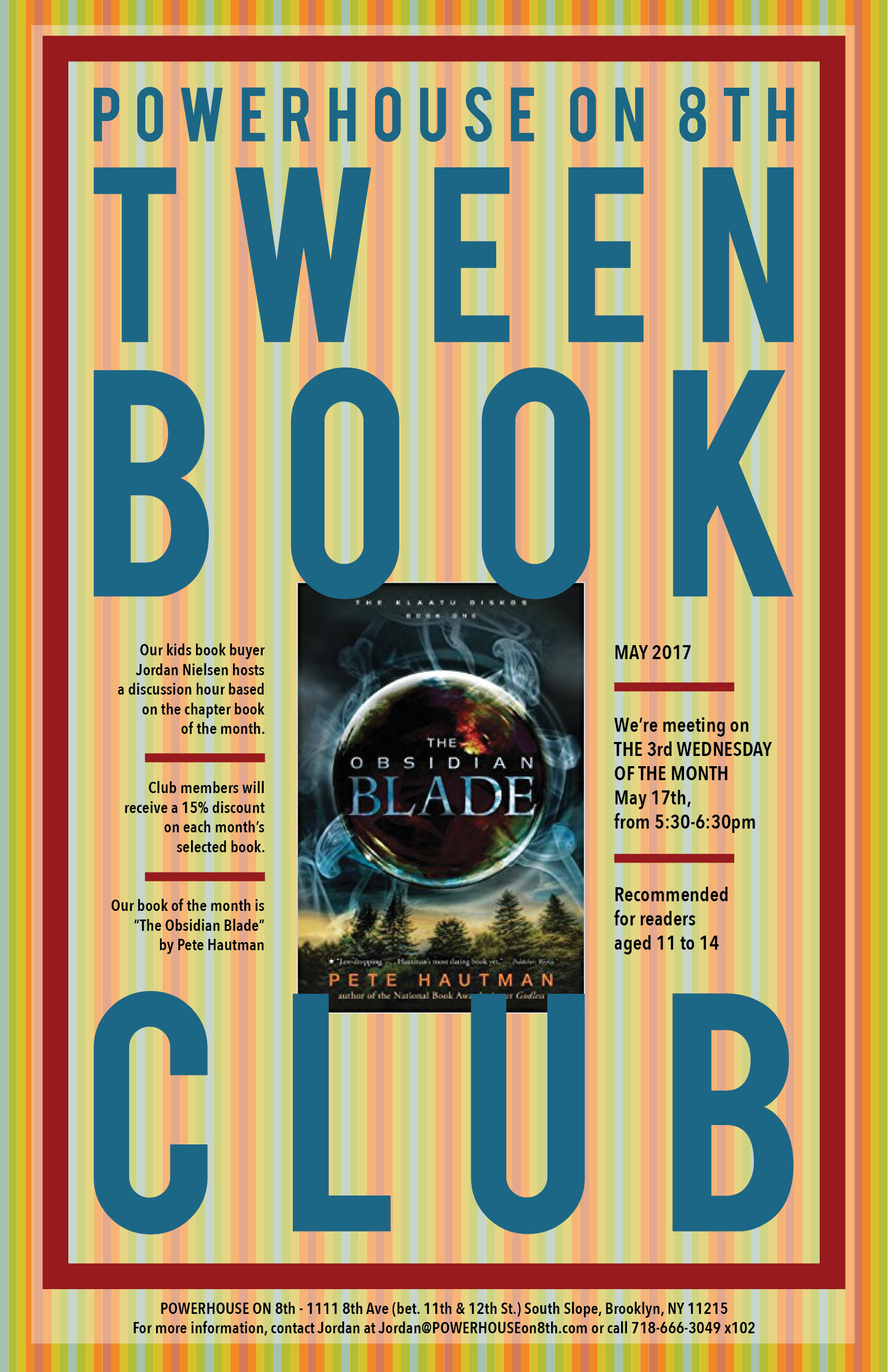 Wednesday May 17, 2017
5:30 pm - 6:30 pm
POWERHOUSE on 8th [Park Slope]
1111 8th Ave
Brooklyn, NY 11215
Our kids book buyer Jordan B. Nielsen hosts a discussion hour based on The Obsidian Blade by Pete Hautman, a spectacular time-travel odyssey that examines the dueling perils of theocracy and technocracy, and a fraught father-son relationship. It's her favorite young adult series!
Club members will receive a 15% discount on each month's selected books. For more information, please contact Jordan Nielsen at jordan@powerhouseon8th.com.
---
About the Book:
The first time his father disappeared, Tucker Feye had just turned thirteen. The Reverend Feye simply climbed on the roof to fix a shingle, let out a scream, and vanished — only to walk up the driveway an hour later, looking older and worn, with a strange girl named Lahlia in tow. In the months that followed, Tucker watched his father grow distant and his once loving mother slide into madness. But then both of his parents disappear. Now in the care of his wild Uncle Kosh, Tucker begins to suspect that the disks of shimmering air he keeps seeing — one right on top of the roof — hold the answer to restoring his family. And when he dares to step into one, he's launched on a time-twisting journey
— from a small Midwestern town to a futuristic hospital run by digitally augmented healers, from the death of an ancient prophet to a forest at the end of time. Inevitably, Tucker's actions alter the past and future, changing his world forever.
About the Author:
Pete Hautman is the author of Godless, which won the National Book Award, and many other critically acclaimed books for teens and adults, including Blank Confession, All-In, Rash, No Limit, Invisible, and Mr. Was, which was nominated for an Edgar Award by the Mystery Writers of America. Pete lives in Minnesota and Wisconsin.
RSVP
Bookings are closed for this event.