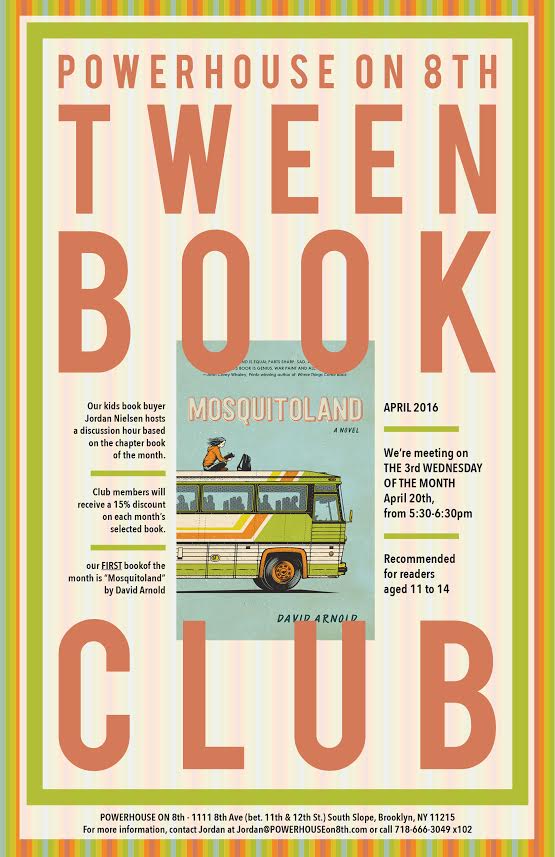 Wednesday Apr 20, 2016
5:30 pm - 6:30 pm
POWERHOUSE on 8th [Park Slope]
1111 8th Ave
Brooklyn, NY 11215
For more information, please call 718-801-8375
RSVP appreciated: RSVP@POWERHOUSEon8th.com
-or-
Please fill out the "Bookings" form at the bottom of this page.
---
Our kids book buyer Jordan B. Nielsen hosts a discussion hour based on Mosquitoland by David Arnold. Club members will receive a 15% discount on each month's selected books. For more information, please contact Jordan Nielsen at Jordan@powerhouseon8th.com
About Mosquitoland :
After the sudden collapse of her family, Mim Malone is dragged from her home in northern Ohio to the "wastelands" of Mississippi, where she lives in a medicated milieu with her dad and new stepmom. Before the dust has a chance to settle, she learns her mother is sick back in Cleveland.
So she ditches her new life and hops aboard a northbound Greyhound bus to her real home and her real mother, meeting a quirky cast of fellow travelers along the way. But when her thousand-mile journey takes a few turns she could never see coming, Mim must confront her own demons, redefining her notions of love, loyalty, and what it means to be sane.
Told in an unforgettable, kaleidoscopic voice, Mosquitoland is a modern American odyssey, as hilarious as it is heartbreaking.
About the Author:
David Arnold is the author of MOSQUITOLAND (Viking/Penguin, 2015). Previous jobs include freelance musician/producer, stay-at-home dad, and preschool teacher. He is a fierce believer in the power of kindness and community. And chips. He believes fiercely in chips. David is represented by Dan Lazar at Writers House. You can find him at davidarnoldbooks.com and on twitter @roofbeam.
RSVP
Bookings are closed for this event.