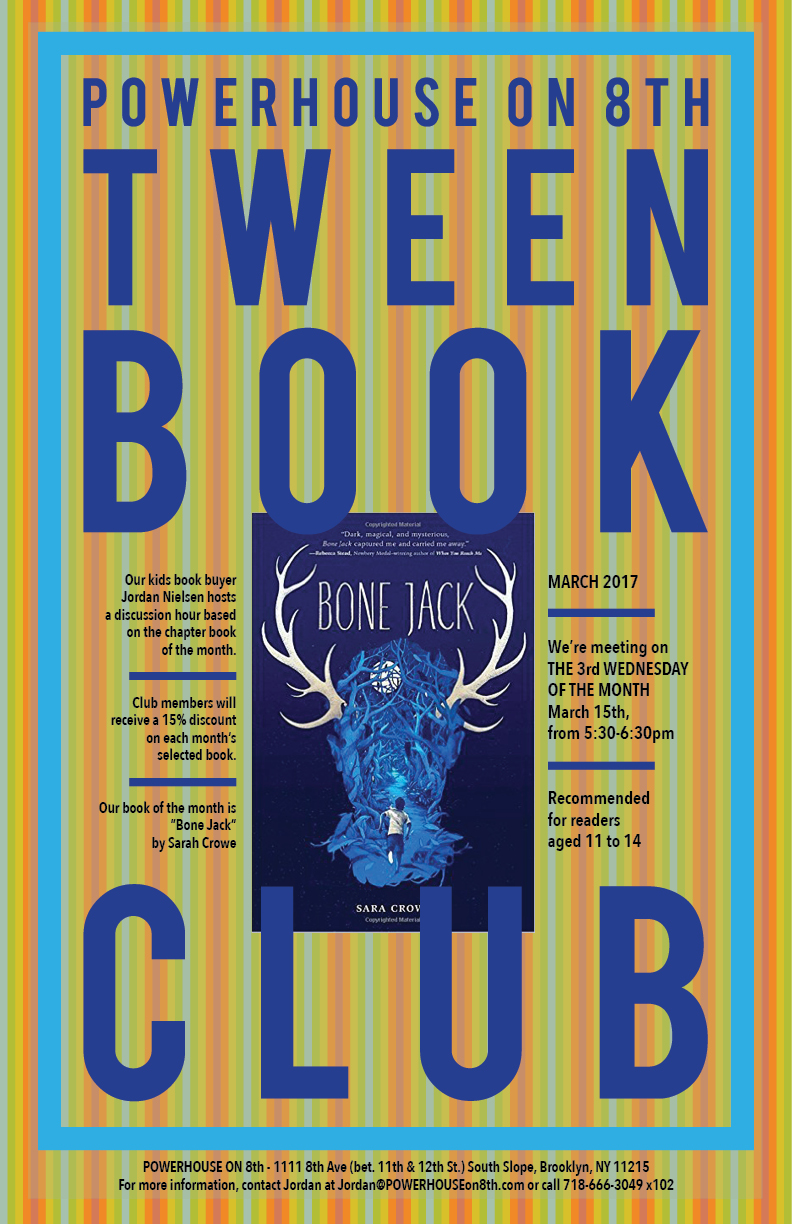 Wednesday Mar 15, 2017
5:30 pm - 6:30 pm
POWERHOUSE on 8th [Park Slope]
1111 8th Ave
Brooklyn, NY 11215
Our kids book buyer Jordan B. Nielsen hosts a discussion hour based on Bone Jack by Sara Crowe. A haunting story of magic and myth, of one boy caught between worlds, and of the lengths he will travel to save those he loves. Club members will receive a 15% discount on each month's selected books. For more information, please contact Jordan Nielsen at Jordan@powerhouseon8th.com
---
About Bone Jack:
Ash's dad has just returned from war, close to breakdown, far from the war hero Ash was expecting. Ash is going to be the stag boy in the annual Stag Chase. He's been waiting to tell his dad he's following in his footsteps, he'll make him proud. But Dad is stuck in a world of imaginary threats.
When Ash's grieving best friend pushes him away too, his world suddenly seems lonely and threatening. So Ash retreats to the mountains, to his punishing training runs. But in the mountains dark things are stirring – the hound boys of old haunt his running steps and Ash hears the death cry of a stag boy. Ash starts to wonder how much of the sinister pagan stories about the Stag Chase are true, and what it all has to do with his friend's anger and grief.
As death haunts his every step, Ash has to find a way to live again.
About the Author:
Sara Crowe was born in Cornwall and raised all over England by her restless parents. She taught cinema and photography studies until 2012 when she and her partner bought a van and spent the next 18 months travelling around the British Isles. She currently lives in a tumbledown cottage in Lincolnshire. Bone Jack is her first novel.
RSVP
Bookings are closed for this event.