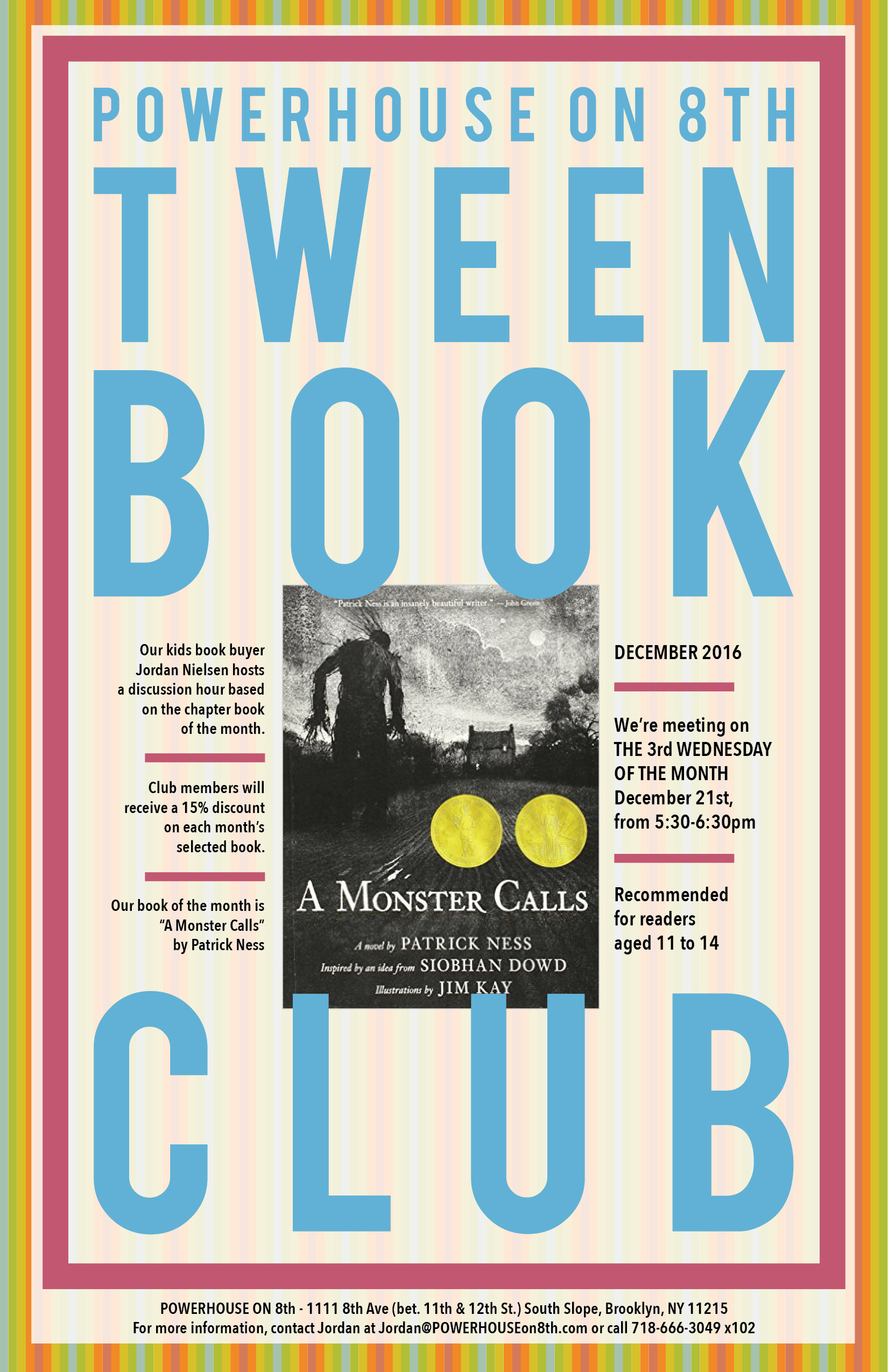 Wednesday Dec 21, 2016
5:30 pm - 6:30 pm
POWERHOUSE on 8th [Park Slope]
1111 8th Ave
Brooklyn, NY 11215
Our kids book buyer Jordan B. Nielsen hosts a discussion hour based on A Monster Calls the Moon by Patrick Ness. Club members will receive a 15% discount on each month's selected books. For more information, please contact Jordan Nielsen at Jordan@powerhouseon8th.com.
---
About A Monster Calls:
An unflinching, darkly funny, and deeply moving story of a boy, his seriously ill mother, and an unexpected monstrous visitor.
At seven minutes past midnight, thirteen-year-old Conor wakes to find a monster outside his bedroom window. But it isn't the monster Conor's been expecting– he's been expecting the one from his nightmare, the nightmare he's had nearly every night since his mother started her treatments. The monster in his backyard is different. It's ancient. And wild. And it wants something from Conor. Something terrible and dangerous. It wants the truth. From the final idea of award-winning author Siobhan Dowd– whose premature death from cancer prevented her from writing it herself– Patrick Ness has spun a haunting and darkly funny novel of mischief, loss, and monsters both real and imagined.
About the Author:
Patrick Ness is the author of the critically acclaimed and best-selling Chaos Walking trilogy. He has won numerous awards, including the Guardian Children's Fiction Prize, the Booktrust Teenage Prize, and the Costa Children's Book Award. Born in Virginia, he lives in London.