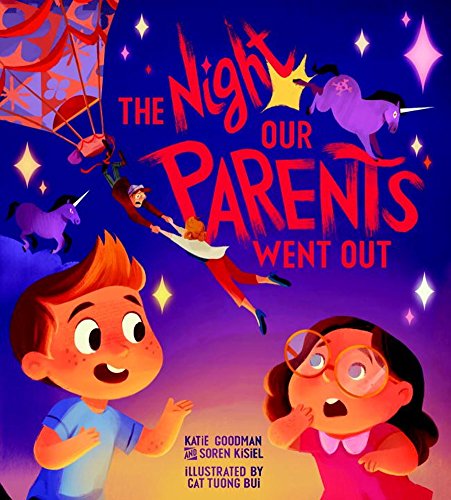 Sunday Jan 31, 2016
11:30 am - 12:30 pm
POWERHOUSE on 8th [Park Slope]
1111 8th Ave
Brooklyn, NY 11215
Ages 4-8
For more information, please call 718-801-8375
RSVP appreciated: RSVP@POWERHOUSEon8th.com
---
Imaginative prowess kicks into high gear when two children brew up increasingly wild adventures that befall mom and dad on their night out.
About The Night Our Parents Went Out:
"Entertaining," –Kirkus Reviews
"Assaults by evil unicorns! A giant squid! Aggressive ostriches! A vampire usher! When mom and dad go out for a date night, anything might happen to them. In this deliciously playful picture book a brother and sister, left in the care of a sitter trying her best to keep up with their mind games, let their imaginations run wild as they invent one satisfyingly preposterous scenario after another. After turning the last fun-filled page, young readers may want to make up their own wacky stories about the risks parents face when they take off for dinner and the movies, leaving their tall-tale-telling kids behind." — Judith Viorst, bestselling author of Alexander and the Terrible, Horrible, No Good, Very Bad Day
As a parent, a night out without kids is a heavenly notion; finding a sitter, figuring out what to do and finding the energy to get dressed and leave the house can sometimes make it seem like more work than it's worth. But then, when you do make it out the door, you realize just how blissful it is to walk without a child and/or stroller in tow, and to have an adult conversation. You may wonder and worry about what the children are up to at home, but after that first sip of wine you know all is well.
Improvisational comedians and parents Soren Kisiel and Katie Goodman know this scene very well. And after a night out with friends with kids and a call from home and a young voice asking if they'd ever be home, the creative wheels began turning and they wondered, what is it like at home when we're out? This was ripe territory for the founders of Broad Comedy who brought us the viral hit video Sh*# Park Slope Parents Say, and thus was born the picture book The Night Our Parents Went Out illustrated by Cat Tuong Bui (POW!; Dec 2015). The couple employs their award-winning comedic timing and talents in this absurdist tale that has siblings wondering what their parents are up to when they're out—are they in a runaway hot air balloon? Guarding a Top Secret lab? All the while a babysitter calmly reassures them that their parents are just fine.
Parents will delight in this fanciful book, and kids will have a safe place for their emotions and imaginations to run wild.
About the Authors:
Katie Goodman and Soren Kisiel, a wife-husband team, are the creators, writers, and directors of the comedy troupe Broad Comedy. They are also the co-founders of the Equinox Theatre Company, they run a summer theater camp for kids in Montana, and they do other co-things that led to co-parenting in recent years. Katie and Soren been nominated for the MacArthur Foundation Genius Award for their work in theatre. Their popular YouTube video, Sh*t Park Slope Parents Say, is a gently satirical take on modern parenting in Brooklyn. In addition to Broad Comedy, Katie has written for O, The Oprah Magazine and is the author of Improvisation For The Spirit: Live A Creative, Spontaneous, and Courageous Life Using the Tools of Improv Comedy. She is a nationally touring public speaker and leads retreats under the title "Improvisation For The Spirit." Soren is also an internationally touring improv comedian and an award-winning playwright. They live in Brooklyn, NY with their son.
RSVP
Bookings are closed for this event.