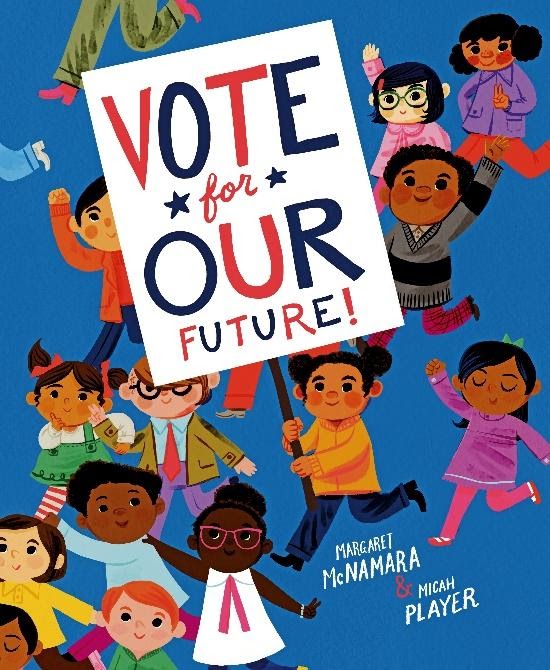 Sunday Mar 01, 2020
11:30 am - 12:00 pm
POWERHOUSE on 8th [Park Slope]
1111 8th Ave
Brooklyn, NY 11215
Category(ies)
RSVP encouraged & appreciated.
Please fill out the form at the bottom of this page if you plan on attending. Facebook event found here.
PLEASE NOTE: Submitting an RSVP for this event DOES NOT guarantee entrance. This is a free-access event — entrance will be on a first-come, first-served basis.
About the Book:
Vote for Our Future   
In 2020 alone, 24 million Gen Z voters will become eligible to vote. Research shows that voting is a habitual behavior – people who vote in the first three elections they're eligible for will most likely vote for the rest of their life. So how can we instill the importance of voting in our kids?
In VOTE FOR OUR FUTURE a charming and powerful picture book about voting and elections, the students of Stanton Elementary School learn how we can find—and use—our voices for change, no matter how old we are!

Every two years, on the first Tuesday of November, Stanton Elementary School closes for the day. For vacation? Nope! For repairs? No way! Stanton Elementary School closes so that it can transform itself into a polling station. People can come from all over to vote for the people who will make laws for the country. Sure, the Stanton Elementary School students might be too young to vote themselves, but that doesn't mean they can't encourage their parents, friends, and family to vote! After all, voting is how this country sees change–and by voting today, we can inspire tomorrow's voters to change the future.
About the Author:
Margaret McNamara is the author of the Mr. Tiffin Classroom series, including The Dinosaur Expert, A Poem in Your Pocket, The Apple Orchard Riddle, and How Many Seeds in a Pumpkin? She is also the author of Eliza: The Story of Elizabeth Schuyler Hamilton, which Booklist called "lovely" in a starred review. Ms. McNamara lives in New York City. Visit her on the Web at margaretmcnamara.net.
RSVP
Bookings are closed for this event.