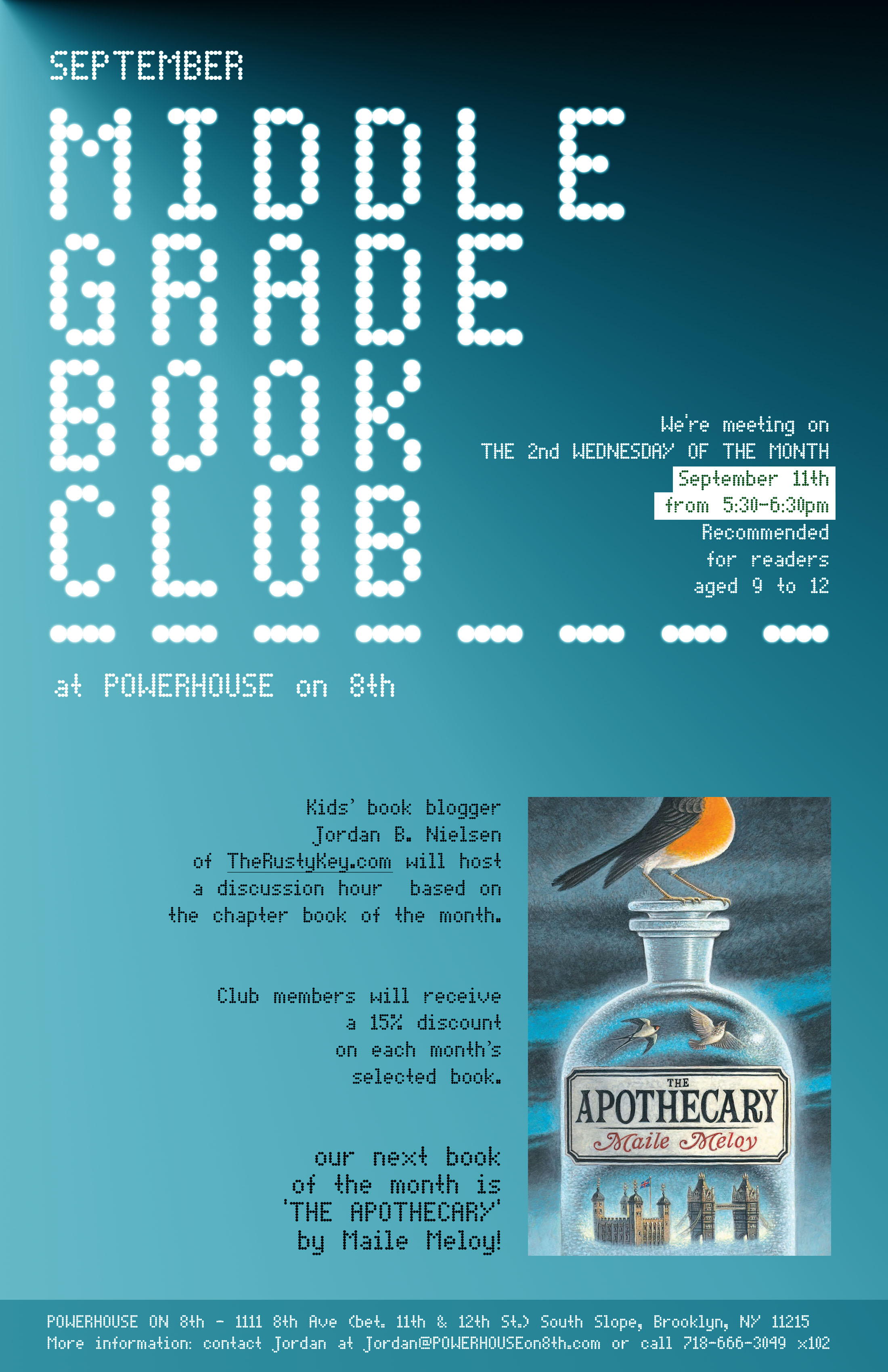 Wednesday Sep 11, 2013
5:30 pm - 6:30 pm
POWERHOUSE on 8th [Park Slope]
1111 8th Ave
Brooklyn, NY 11215
Ages 9-12
For more information, please call 718-801-8375
RSVP appreciated: RSVP@POWERHOUSEon8th.com
---
Kids' book blogger Jordan B. Nielsen of TheRustyKey.com will host a discussion hour based on the chapter book of the month. Club members will receive a 15% discount on each month's selected book. September's selection is The Apothecary by Maile Meloy. The author will attend via Skype!
About THE APOTHECARY:
It's 1952 and the Scott family has just moved from Los Angeles to London. There, fourteen-year- old Janie meets a mysterious apothecary and his son, Benjamin, a fascinating boy who dreams of becoming a spy. When Benjamin's father is kidnapped, Janie and Benjamin must uncover the secrets of the apothecary's sacred book, the Pharmacopoeia, in order to find him, all while keeping it out of the hands of their enemies—Russian spies in possession of nuclear weapons. Discovering and testing potions they never believed could exist, Janie and Benjamin embark on a dangerous race to save the apothecary and prevent impending disaster.
About the Author:
Maile Meloy (www.mailemeloy.com) is the award-winning author of the short-story collections Half in Love and Both Ways Is the Only Way I Want It, and the novels Liars and Saints and A Family Daughter. This is her first novel for young readers. She lives in California.
---
RSVP
Bookings are closed for this event.