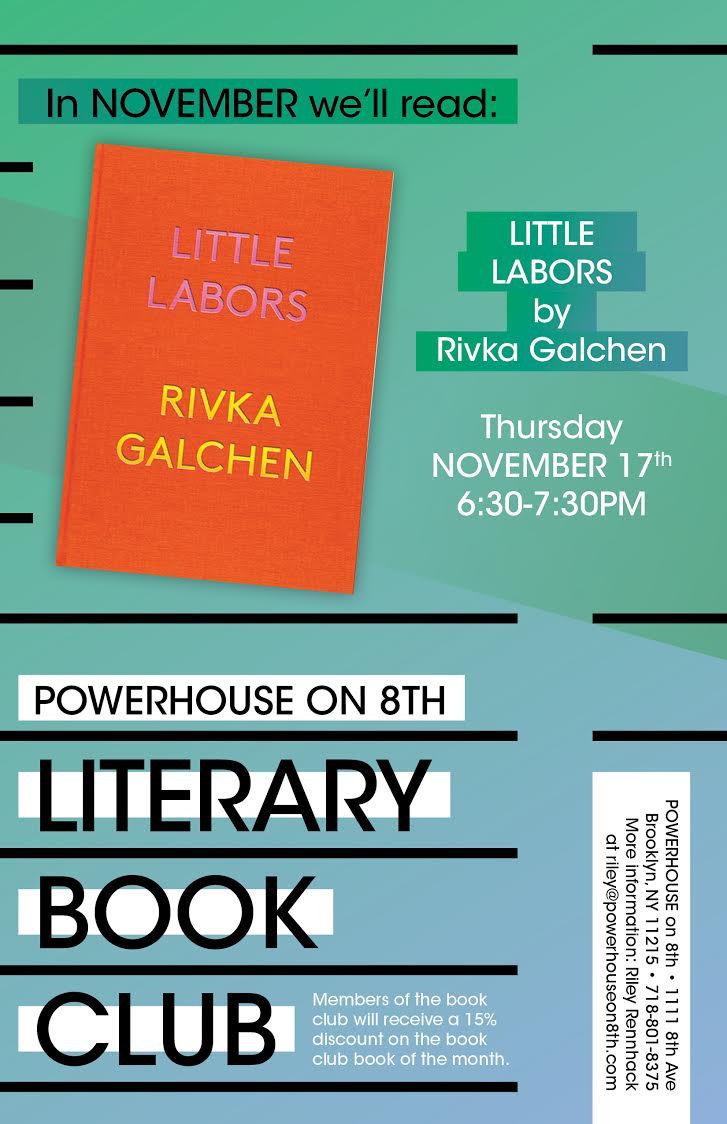 Thursday Nov 17, 2016
6:30 pm - 7:30 pm
POWERHOUSE on 8th [Park Slope]
1111 8th Ave
Brooklyn, NY 11215
Join us for the first meeting of our Literary Book Club, where we'll be reading Rivka Galchen's LITTLE LABORS, a dizzyingly brilliant collection of wry, intimate observations, stories, and essays questioning where children fit in art and in literature.
---
About Little Labors:
Rivka Galchen's Little Labors is a droll and dazzling compendium of observations, stories, lists, and brief essays about babies and literature
Sei Shonagon's Pillow Book―a key inspiration for Rivka Galchen's new book―contains a list of "Things That Make One Nervous." And wouldn't the blessed event top almost anyone's list?
Little Labors is a slanted, enchanted literary miscellany. Varying in length from just a sentence or paragraph to a several-page story or essay, Galchen's puzzle pieces assemble into a shining, unpredictable, mordant picture of the ordinary-extraordinary nature of babies and literature. Anecdotal or analytic, each part opens up an odd and tender world of wonder. The 47 Ronin; the black magic of maternal love; babies morphing from pumas to chickens; the quasi-repellent concept of "women writers"; origami-ophilia in Oklahoma as a gateway drug to a lifelong obsession with Japan; discussions of favorite passages from the Heian masterpieces Genji and The Pillow Book; the frightening prevalence of orange as today's new chic color for baby gifts; Frankenstein as a sort of baby; babies gold mines; babies as tiny Godzillas …
Little Labors–atomized and exploratory, conceptually byzantine and freshly forthright–delights.
About the author:
Rivka Galchen
 (born April 19, 1976) is a Canadian-American writer. Her first novel, 
Atmospheric Disturbances
, was published in 2008 and was awarded the William Saroyan International Prize for Writing. Galchen teaches writing at Columbia University
and is a contributing editor at 
Harper's Magazine
.
In 2010 Galchen was chosen by The New Yorker as one of its "20 Under 40".
Galchen's short-story collection, American Innovations, was published in 2014. The collection was long listed for the 2014 Scotiabank Giller Prize and awarded the Danuta Gleed Literary Award.
RSVP
Bookings are closed for this event.