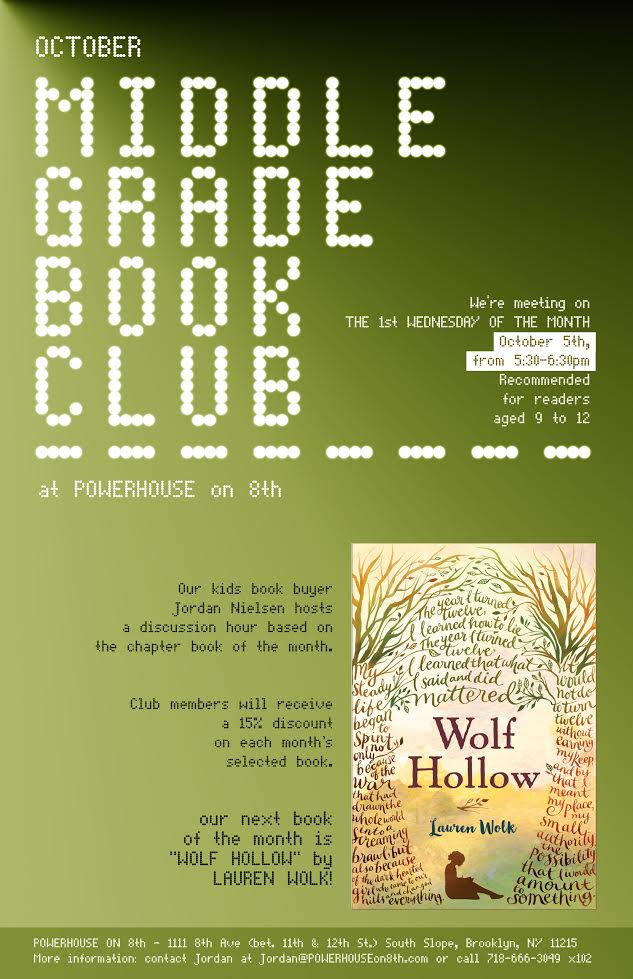 Wednesday Oct 12, 2016
5:30 pm - 6:30 pm
POWERHOUSE on 8th [Park Slope]
1111 8th Ave
Brooklyn, NY 11215
Reading
Ages 9-12
For more information, please call 718.666.3049 x102
RSVP appreciated: RSVP@POWERHOUSEon8th.com
---
Our kids book buyer Jordan B. Nielsen will host a discussion hour based on Wolf Hollow by Lauren Wolk. Club members will receive a 15% discount on each month's selected books. For more information, please contact Jordan Nielsen at Jordan@powerhouseon8th.com.
About Wolf Hollow:
"Wrenching and true. . . . comparisons to Harper Lee's To Kill a Mockingbird will abound. But Wolk gives us her own story—one full of grace and stark, brutal beauty." —The New York Times Book Review

Growing up in the shadows cast by two world wars, Annabelle has lived a mostly quiet, steady life in her small Pennsylvania town. Until the day new student Betty Glengarry walks into her class. Betty quickly reveals herself to be cruel and manipulative, and while her bullying seems isolated at first, things quickly escalate, and reclusive World War I veteran Toby becomes a target of her attacks. While others have always seen Toby's strangeness, Annabelle knows only kindness. She will soon need to find the courage to stand as a lone voice of justice as tensions mount.
Brilliantly crafted, Wolf Hollow is a haunting tale of America at a crossroads and a time when one girl's resilience and strength help to illuminate the darkest corners of our history.
RSVP
Bookings are closed for this event.