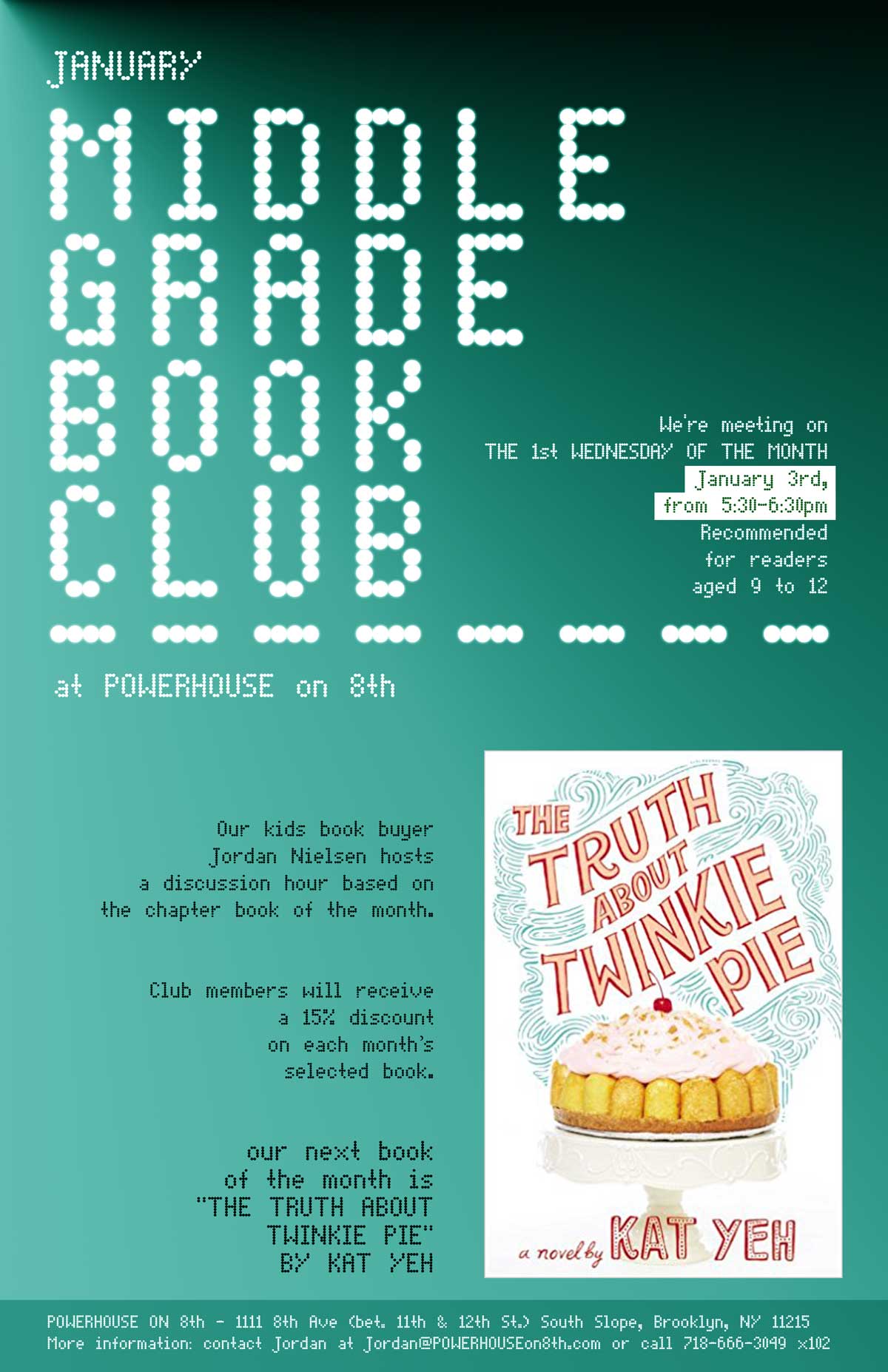 Wednesday Jan 03, 2018
5:30 pm - 6:30 pm
POWERHOUSE on 8th [Park Slope]
1111 8th Ave
Brooklyn, NY 11215
For more information, please call 718-801-8375
RSVP appreciated: RSVP@POWERHOUSEon8th.com
---
Our kids book buyer Jordan B. Nielsen will host a discussion hour based on The Truth About Twinkie Pie, by Kay Yeh. Two resourceful, orphaned sisters who try to make it on their own in a poignant coming-of-age novel about family, resilience, and baking.
Club members will receive a 15% discount on each month's selected books. For more information, please contact Jordan Nielsen at Jordan@powerhouseon8th.com.
About The Truth About Twinkie Pie:
There's something about asking for Impossible Things. For one little second, they feel Possible.
Take two sisters making it on their own: brainy twelve-year-old GiGi and junior-high-dropout-turned-hairstylist DiDi. Add a million dollars in prize money from a national cooking contest and a move from the trailer parks of South Carolina to the North Shore of Long Island. Mix in a fancy new school, new friends and enemies, a first crush, and a generous sprinkling of family secrets.
That's the recipe for The Truth About Twinkie Pie, a voice-driven middle-grade debut about the true meaning of family and friendship.
About the Author:
Kat Yeh grew up reading, doodling, and scribbling in Westtown, Pennsylvania. She worked for many years in advertising and sports marketing, while writing children's books in the wee hours of the night. She currently lives on Long Island where she can see water every day and explore all the bay and harbor beaches with her family.
RSVP
Bookings are closed for this event.