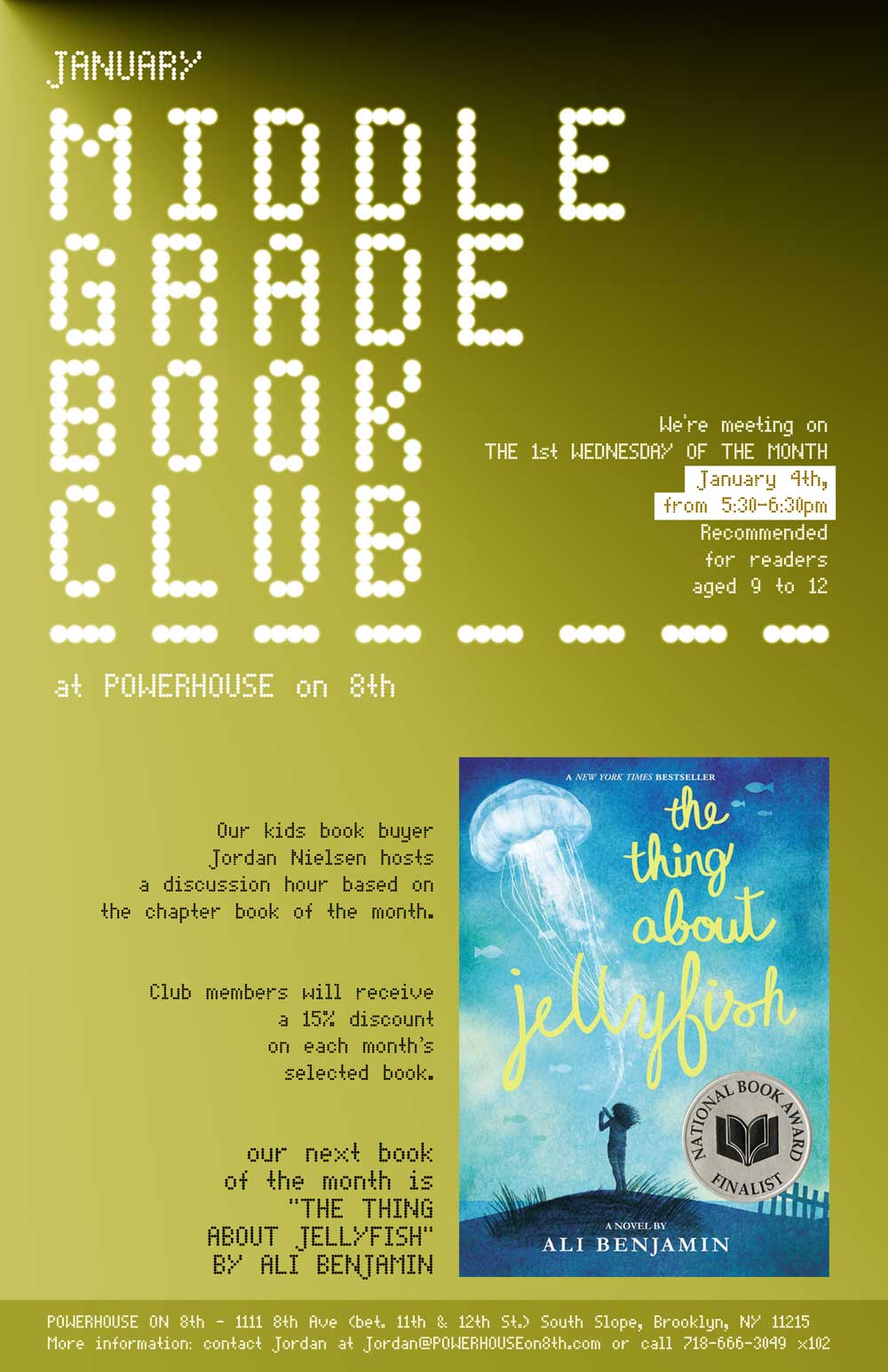 Wednesday Jan 04, 2017
5:30 pm - 6:30 pm
POWERHOUSE on 8th [Park Slope]
1111 8th Ave
Brooklyn, NY 11215
For more information, please call 718-801-8375
RSVP appreciated: RSVP@POWERHOUSEon8th.com
---
Our kids book buyer Jordan B. Nielsen will host a discussion hour based on The Thing About Jellyfish by Ali Benjamin, a stunning debut about how grief can open the world in magical ways. Club members will receive a 15% discount on each month's selected books. For more information, please contact Jordan Nielsen at Jordan@powerhouseon8th.com.
About The Thing About Jellyfish:
This stunning debut novel about grief and wonder was an instant New York Times bestseller and captured widespread critical acclaim, including selection as a 2015 National Book Award finalist!
After her best friend dies in a drowning accident, Suzy is convinced that the true cause of the tragedy must have been a rare jellyfish sting-things don't just happen for no reason. Retreating into a silent world of imagination, she crafts a plan to prove her theory–even if it means traveling the globe, alone. Suzy's achingly heartfelt journey explores life, death, the astonishing wonder of the universe…and the potential for love and hope right next door.
About the author:
Ali Benjamin is a National Book Award Finalist for The Thing About Jellyfish, and the co-writer for HIV-positive teen Paige Rawl's coming-of-age memoir Positive as well as Tim Howard's New York Times bestseller The Keeper. She is a member of New England Science Writers and has written for The Boston GlobeMagazine, Martha Stewart's Whole Living, and Sesame Street. She lives in Massachusetts.
RSVP
Bookings are closed for this event.