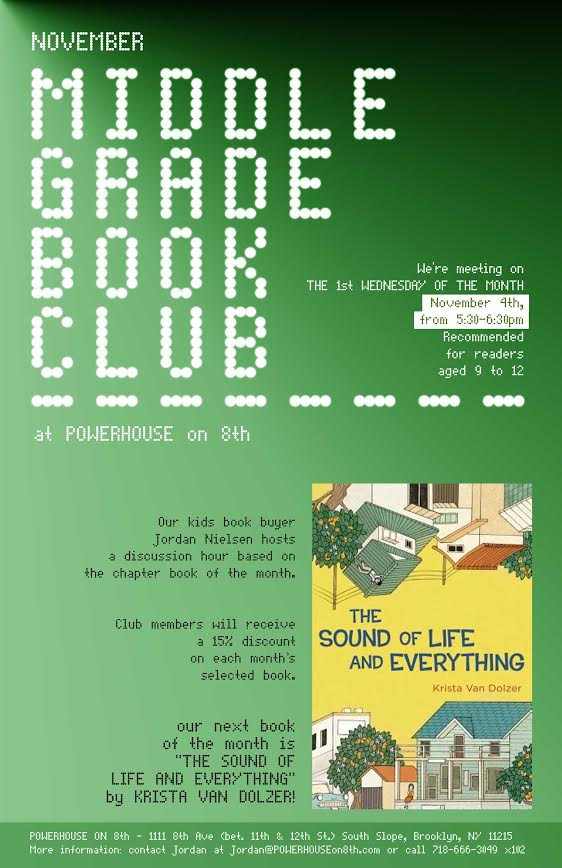 Wednesday Nov 04, 2015
5:30 pm - 6:30 pm
POWERHOUSE on 8th [Park Slope]
1111 8th Ave
Brooklyn, NY 11215
Reading
Ages 9-12
For more information, please call 718.666.3049 x102
RSVP appreciated: RSVP@POWERHOUSEon8th.com
---
Kids' book blogger Jordan B. Nielsen of TheRustyKey.com will host a discussion hour based on The Sound of Life and Everything by Krista Van Dolzer. Club members will receive a 15% discount on each month's selected books. For more information, please contact Jordan Nielsen at Jordan@powerhouseon8th.com
About The Sound of Life and Everything:
Twelve-year-old Ella Mae Higbee is a sensible girl. She eats her vegetables and wants to be just like Sergeant Friday, her favorite character on Dragnet. So when her auntie Mildred starts spouting nonsense about a scientist who can bring her cousin back to life from blood on his dog tags, Ella Mae is skeptical—until he steps out of a bio-pod right before her eyes.
But the boy is not her cousin—he's Japanese. And in California in the wake of World War II, the Japanese are still feared and despised. When her aunt refuses to take responsibility, Ella Mae and her Mama take him home instead. Determined to do what's right by her new friend, Ella Mae teaches Takuma English and defends him from the reverend's talk of H-E-double-toothpicks. But when his memories start to resurface, Ella Mae learns some shocking truths about her own family and more importantly, what it means to love.
RSVP
Bookings are closed for this event.