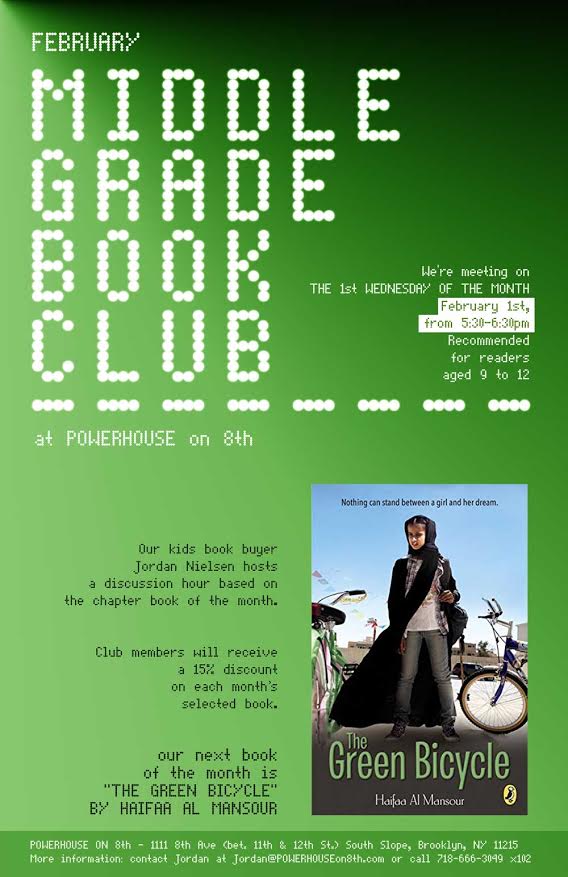 Wednesday Feb 01, 2017
5:30 pm - 6:30 pm
POWERHOUSE on 8th [Park Slope]
1111 8th Ave
Brooklyn, NY 11215
For more information, please call 718-801-8375
RSVP appreciated: RSVP@POWERHOUSEon8th.com
---
Our kids book buyer Jordan B. Nielsen will host a discussion hour based on The Green Bicycle by Haifaa Al Mansour, a powerful debut that tells the story of struggle, solidarity, and optimism. Club members will receive a 15% discount on each month's selected books. For more information, please contact Jordan Nielsen at Jordan@powerhouseon8th.com.
About The Green Bicycle:
Spunky eleven-year-old Wadjda lives in Riyadh, Saudi Arabia, with her parents. She desperately wants a bicycle so that she can race her friend Abdullah, even though it is considered improper for girls to ride bikes. Wadjda earns money for her dream bike by selling homemade bracelets and mixtapes of banned music to her classmates. But after she's caught, she's forced to turn over a new leaf (sort of), or risk expulsion from school. Still, Wadjda keeps scheming, and with the bicycle so closely in her sights, she will stop at nothing to get what she wants.
About the author:
Haifaa Al Mansour is a Saudi Arabian film director and screenwriter. She is the winner of the 2015 Sundance Institute Global Filmmaking Award and the EDA Female Focus Award from the Alliance of Women Film Journalists. Her first feature-length film, Wadjda, is the basis of this middle grade novel. Her next film, A Storm in the Stars, starring Elle Fanning, is set to release in 2016. The Green Bicycle is her debut novel.
RSVP
Bookings are closed for this event.