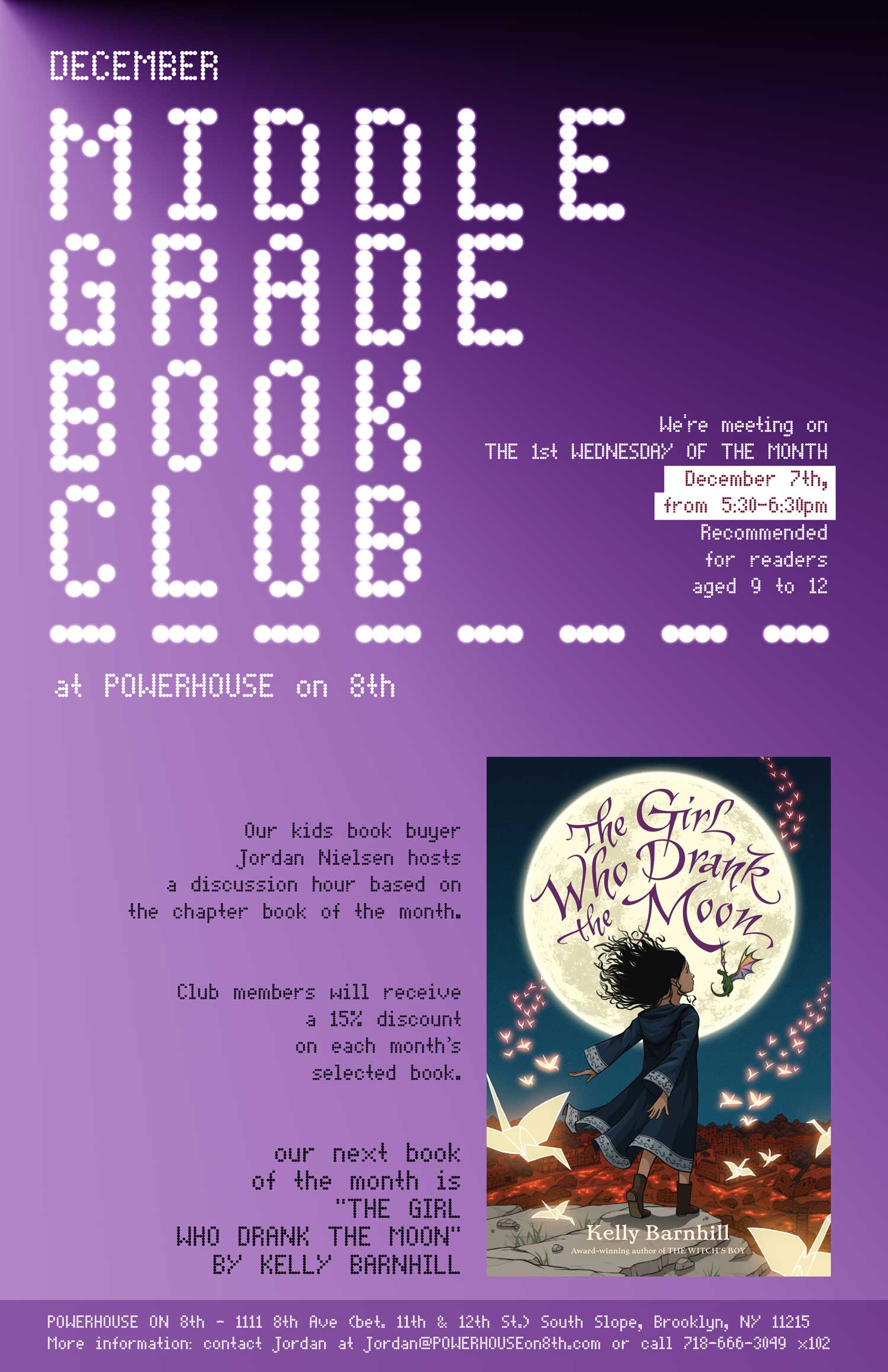 Wednesday Dec 07, 2016
5:30 pm - 6:30 pm
POWERHOUSE on 8th [Park Slope]
1111 8th Ave
Brooklyn, NY 11215
Our kids book buyer Jordan B. Nielsen hosts a discussion hour based on The Girl Who Drank the Moon by Kelly Barnhill. Club members will receive a 15% discount on each month's selected books. For more information, please contact Jordan Nielsen at Jordan@powerhouseon8th.com.
---
About The Girl Who Drank the Moon:
Every year, the people of the Protectorate leave a baby as an offering to the witch who lives in the forest. They hope this sacrifice will keep her from terrorizing their town. But the witch in the Forest, Xan, is kind. She shares her home with a wise Swamp Monster and a Perfectly Tiny Dragon. Xan rescues the children and delivers them to welcoming families on the other side of the forest, nourishing the babies with starlight on the journey.
One year, Xan accidentally feeds a baby moonlight instead of starlight, filling the ordinary child with extraordinary magic. Xan decides she must raise this girl, whom she calls Luna, as her own. As Luna's thirteenth birthday approaches, her magic begins to emerge–with dangerous consequences. Meanwhile, a young man from the Protectorate is determined to free his people by killing the witch. Deadly birds with uncertain intentions flock nearby. A volcano, quiet for centuries, rumbles just beneath the earth's surface. And the woman with the Tiger's heart is on the prowl . . .
The author of the highly acclaimed, award-winning novel The Witch's Boy has written an epic coming-of-age fairy tale destined to be a modern classic.
About the Author: 
Kelly Barnhill is an author, teacher and mom. She wrote THE GIRL WHO DRANK THE MOON, THE WITCH'S BOY, IRON HEARTED VIOLET, THE MOSTLY TRUE STORY OF JACK and many, many short stories. She lives in Minneapolis, Minnesota with her three brilliant children, architect husband, and emotionally-unstable dog. You can visit and chat at her blog: www.kellybarnhill.com
RSVP
Bookings are closed for this event.