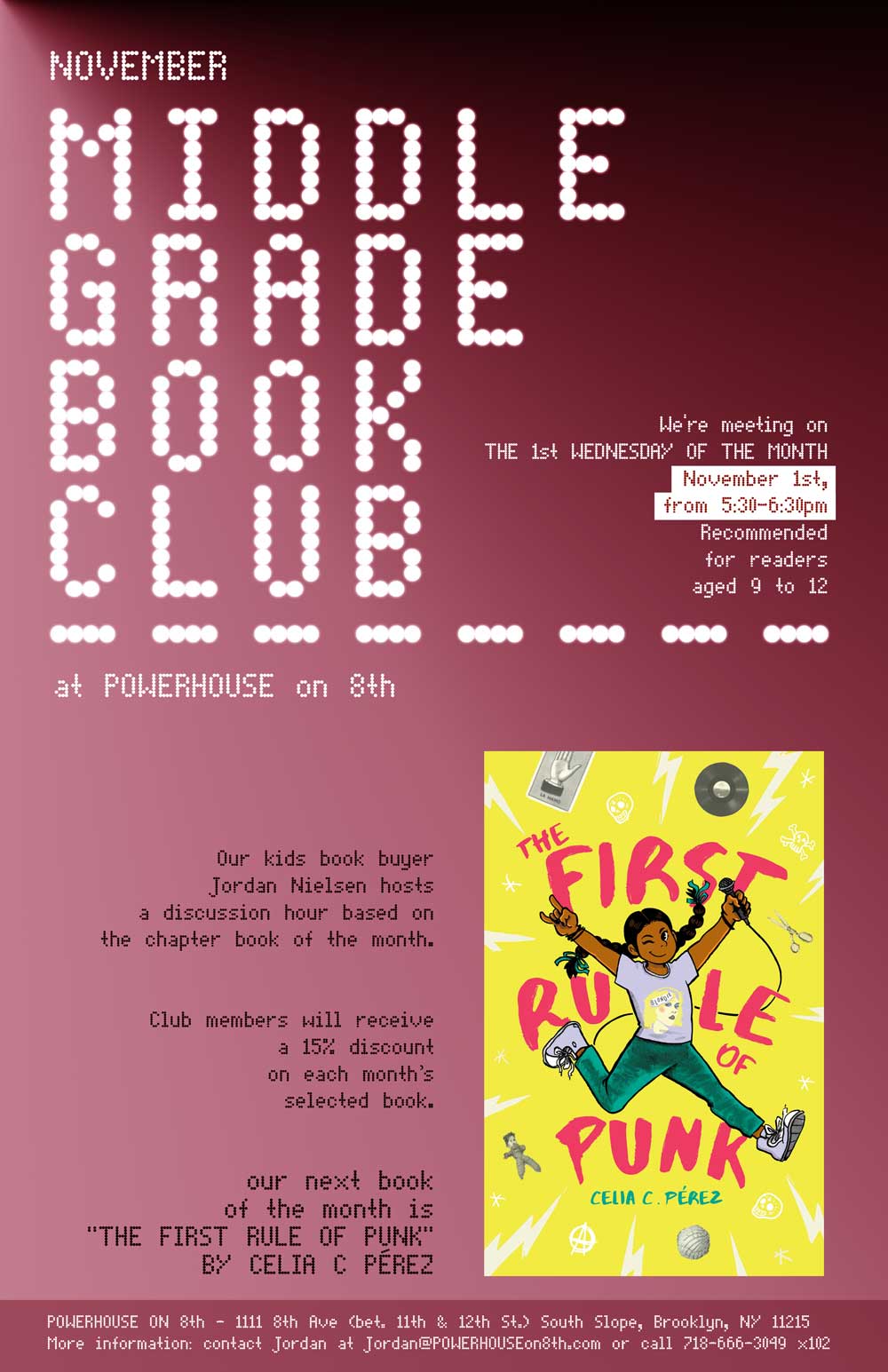 Wednesday Nov 01, 2017
5:30 pm - 6:30 pm
POWERHOUSE on 8th [Park Slope]
1111 8th Ave
Brooklyn, NY 11215
Our kids book buyer Jordan B. Nielsen hosts a discussion hour based on The First Rule of Punk by Celia C. Perez. Club members will receive a 15% discount on each month's selected books. For more information, please contact Jordan Nielsen at Jordan@powerhouseon8th.com.
---
About The First Rule of Punk:
From debut author and longtime zine-maker Celia C. Pérez, The First Rule of Punk is a wry and heartfelt exploration of friendship, finding your place, and learning to rock out like no one's watching.
There are no shortcuts to surviving your first day at a new school—you can't fix it with duct tape like you would your Chuck Taylors. On Day One, twelve-year-old Malú (María Luisa, if you want to annoy her) inadvertently upsets Posada Middle School's queen bee, violates the school's dress code with her punk rock look, and disappoints her college-professor mom in the process. Her dad, who now lives a thousand miles away, says things will get better as long as she remembers the first rule of punk: be yourself.
About the Author: 
Celia C. Pérez has been making zines inspired by punk and her love of writing for longer than some of you have been alive. Her favorite zine supplies are a long-arm stapler, glue sticks, and watercolor pencils. She still listens to punk music, and she'll never stop picking cilantro out of her food at restaurants. Originally from Miami, Florida, Celia lives in Chicago with her family and works as a community college librarian. She owns two sets of worry dolls because you can never have too many. The First Rule of Punk is her first book for young readers.
RSVP
Bookings are closed for this event.