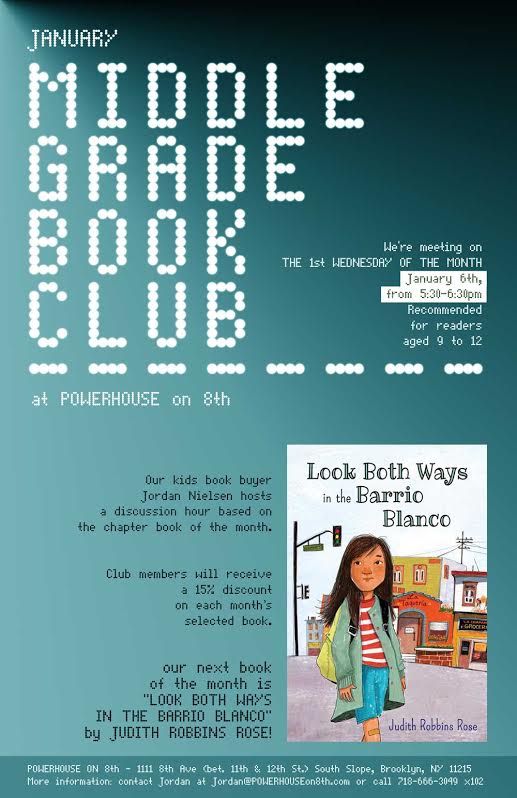 Wednesday Jan 06, 2016
5:30 pm - 6:30 pm
POWERHOUSE on 8th [Park Slope]
1111 8th Ave
Brooklyn, NY 11215
Reading
Ages 9-12
For more information, please call 718.666.3049 x102
RSVP appreciated: RSVP@POWERHOUSEon8th.com
---
Kids' book blogger Jordan B. Nielsen of TheRustyKey.com will host a discussion hour based on Look Both Ways in the Barrio Blanco by Judith Robbins Rose. Club members will receive a 15% discount on each month's selected books. For more information, please contact Jordan Nielsen at Jordan@powerhouseon8th.com.
About Look Both Ways in the Barrio Blanco:
With humor and sensitivity, a debut novelist explores the coming of age of a girl caught between two cultures as she finds the courage to forge a new destiny.
"Miss, will you be my Amiga?" Amiga means "friend" in Spanish, but at the youth center, it meant a lady to take you places. I never asked myself if two people as different as Miss and me could ever really be amigas.
When Jacinta Juarez is paired with a rich, famous mentor, she is swept away from the diapers and dishes of her own boring life into a world of new experiences. But crossing la linea into Miss's world is scary. Half of Jacinta aches for the comfort of Mamá and the familiar safety of the barrio, while the other half longs to embrace a future that offers more than cleaning stuff for white people.
When her family is torn apart, Jacinta needs to bring the two halves of herself together to win back everything she holds dear. Can she channel the power she's gained from Miss and the strength she's inherited from Mamá to save her shattered home life?
RSVP
Bookings are closed for this event.