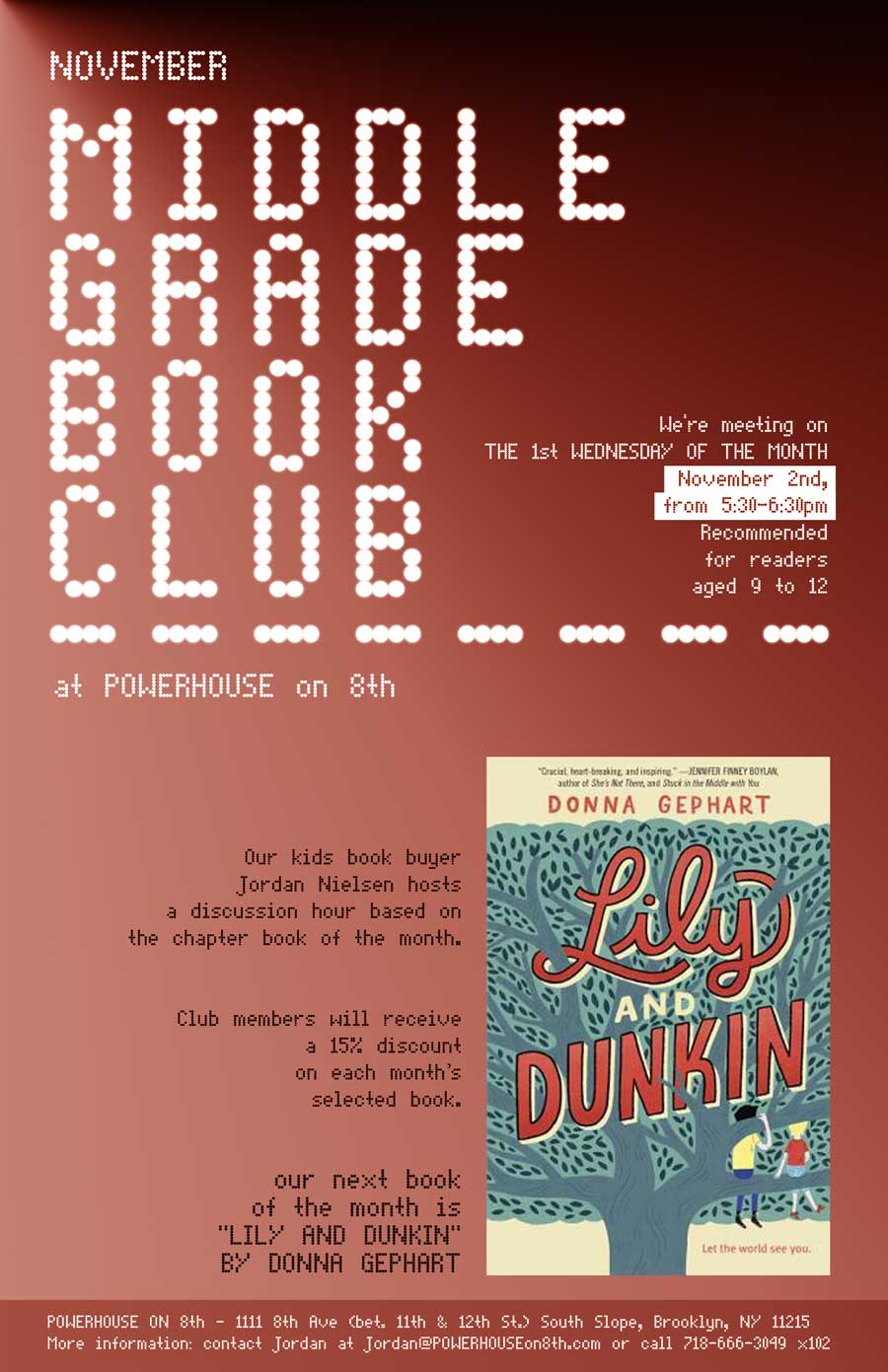 Wednesday Nov 02, 2016
5:30 pm - 6:30 pm
POWERHOUSE on 8th [Park Slope]
1111 8th Ave
Brooklyn, NY 11215
For more information, please call 718-801-8375
RSVP appreciated: RSVP@POWERHOUSEon8th.com
---
Our kids book buyer Jordan B. Nielsen will host a discussion hour based on Lily and Dunkin by Donna Gephart. Club members will receive a 15% discount on each month's selected books. For more information, please contact Jordan Nielsen at Jordan@powerhouseon8th.com.
About Lily and Dunkin:
Lily Jo McGrother, born Timothy McGrother, is a girl. But being a girl is not so easy when you look like a boy. Especially when you're in the eighth grade.
Dunkin Dorfman, birth name Norbert Dorfman, is dealing with bipolar disorder and has just moved from the New Jersey town he's called home for the past thirteen years. This would be hard enough, but the fact that he is also hiding from a painful secret makes it even worse.
One summer morning, Lily Jo McGrother meets Dunkin Dorfman, and their lives forever change.
About the author:
Donna Gephart is a professional nerd.
Her love for libraries and reading have led her to a career as a children's book author for Penguin Random House. Her books now reside on the shelves of the library she frequented when she was a child.
Donna's books have won a number of awards, received starred reviews and landed on many state reading lists.
She's a popular speaker at schools, book festivals, libraries and conferences, including the S.C.B.W.I. National Conference, the Erma Bombeck Humor Writers' Workshop, F.A.M.E., the Conference on Children's Literature and others.
Originally from Philadelphia, Donna now lives in South Florida with her family, including two sweet shelter dogs, Benji and Teddy.
RSVP
Bookings are closed for this event.