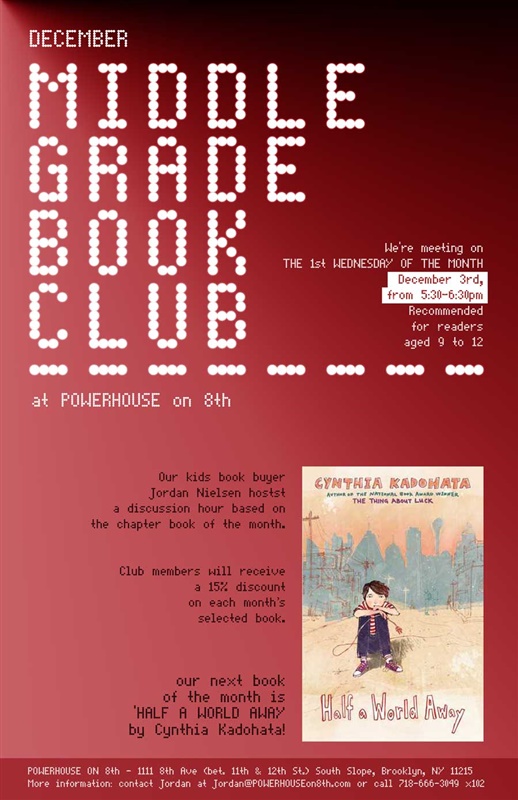 Wednesday Dec 03, 2014
5:30 pm - 6:30 pm
POWERHOUSE on 8th [Park Slope]
1111 8th Ave
Brooklyn, NY 11215
Reading
Ages 9-12
For more information, please call 718.666.3049 x102
RSVP appreciated: RSVP@POWERHOUSEon8th.com
---
Kids' book blogger Jordan B. Nielsen of TheRustyKey.com will host a discussion hour based on Half a World Away by Cynthia Kadohata. Club members will receive a 15% discount on each month's selected books. For more information, please contact Jordan Nielsen at Jordan@powerhouseon8th.com
About Half a World Away: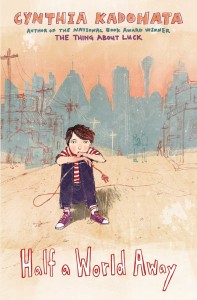 A kid who considers himself an epic fail discovers the transformative power of love when he deals with adoption in this novel from Cynthia Kadohata, winner of the Newbery Medal and the National Book Award.
Eleven-year-old Jaden is adopted, and he knows he's an "epic fail.' That's why his family is traveling to Kazakhstan to adopt a new baby—to replace him, he's sure. And he gets it. He is incapable of stopping his stealing, hoarding, lighting fires, aggressive running, and obsession with electricity. He knows his parents love him, but he feels…nothing.
But when they get to Kazakhstan, it turns out the infant they've travelled for has already been adopted, and literally within minutes are faced with having to choose from six other babies. While his parents agonize, Jaden is more interested in the toddlers. One, a little guy named Dimash, spies Jaden and barrels over to him every time he sees him. Jaden finds himself increasingly intrigued by and worried about Dimash. Already three years old and barely able to speak, Dimash will soon age out of the orphanage, and then his life will be as hopeless as Jaden feels now. For the first time in his life, Jaden actually feels something that isn't pure blinding fury, and there's no way to control it, or its power.
From camels rooting through garbage like raccoons, to eagles being trained like hunting dogs, to streets that are more pothole than pavement, Half a World Away is Cynthia Kadohata's latest spark of a novel.
RSVP
Bookings are closed for this event.