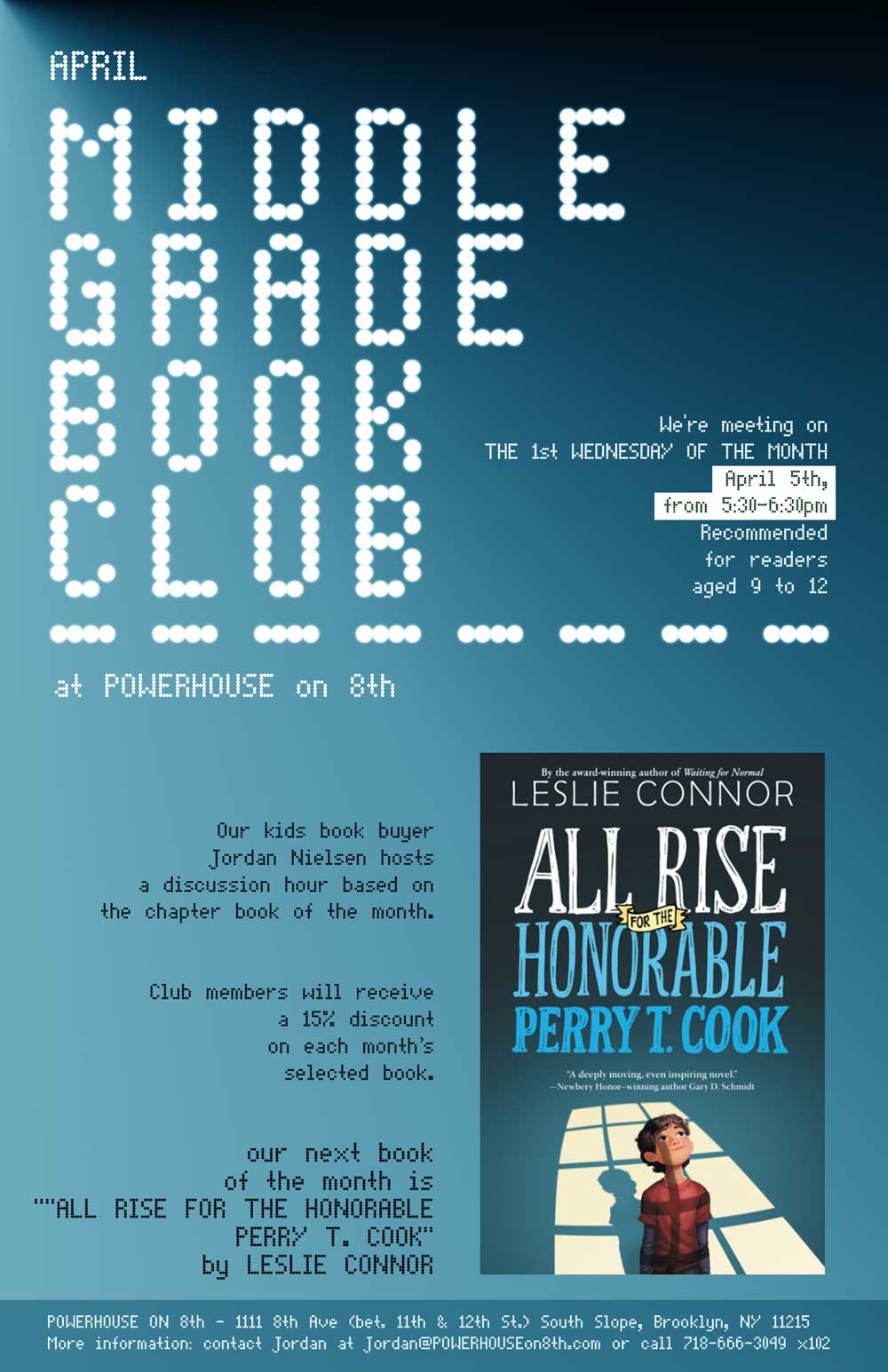 Wednesday Apr 05, 2017
5:30 pm - 6:30 pm
POWERHOUSE on 8th [Park Slope]
1111 8th Ave
Brooklyn, NY 11215
---
Our kids book buyer Jordan B. Nielsen hosts a discussion hour based on All Rise for the Honorable Perry T. Cook by Leslie Connor. From Leslie Connor, award-winning author of Waiting for Normal and Crunch, a soaring and heartfelt story about love, forgiveness, and how innocence makes us all rise up. Club members will receive a 15% discount on each month's selected books. For more information, please contact Jordan Nielsen at Jordan@powerhouseon8th.com.
About All Rise for the Honorable Perry T. Cook:
Eleven-year-old Perry was born and raised by his mom at the Blue River Co-ed Correctional Facility in tiny Surprise, Nebraska. His mom is a resident on Cell Block C, and so far Warden Daugherty has made it possible for them to be together. That is, until a new district attorney discovers the truth—and Perry is removed from the facility and forced into a foster home.
When Perry moves to the "outside" world, he feels trapped. Desperate to be reunited with his mom, Perry goes on a quest for answers about her past crime. As he gets closer to the truth, he will discover that love makes people resilient no matter where they come from . . . but can he find a way to tell everyone what home truly means?
About the Author:
Leslie Connor is the author of several award-winning books for children, including Waiting for Normal, winner of the ALA Schneider Family Book Award, Crunch, Miss Bridie Chose a Shovel, and Dead on Town Line, a young adult novel in verse. She lives with her family in Connecticut.
RSVP
Bookings are closed for this event.