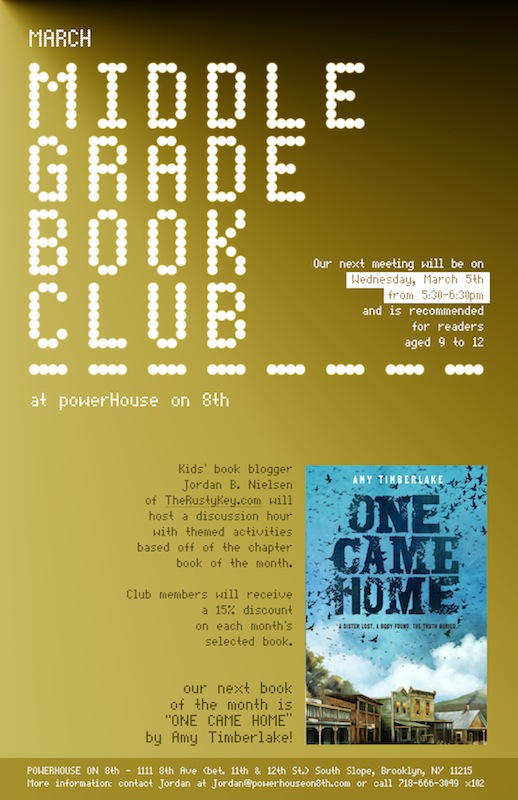 Wednesday Mar 05, 2014
5:30 pm - 6:30 pm
POWERHOUSE on 8th [Park Slope]
1111 8th Ave
Brooklyn, NY 11215
Category(ies)
Ages 10+
For more information, please call 718-801-8375
RSVP appreciated: RSVP@POWERHOUSEon8th.com
---
Kids' book blogger Jordan B. Nielsen of TheRustyKey.com will host a discussion hour based on the chapter book of the month. Club members will receive a 15% discount on each month's selected book. March's selection is One Came Home by Amy Timberlake.
About One Came Home:
In the town of Placid, Wisconsin, in 1871, Georgie Burkhardt is known for two things: her uncanny aim with a rifle and her habit of speaking her mind plainly.
But when Georgie blurts out something she shouldn't, her older sister Agatha flees, running off with a pack of "pigeoners" trailing the passenger pigeon migration. And when the sheriff returns to town with an unidentifiable body-wearing Agatha's blue-green ball gown-everyone assumes the worst. Except Georgie. Refusing to believe the facts that are laid down (and coffined) before her, Georgie sets out on a journey to find her sister. She will track every last clue and shred of evidence to bring Agatha home. Yet even with resolute determination and her trusty Springfield single-shot, Georgie is not prepared for what she faces on the western frontier.
About the Author:
AMY TIMBERLAKE is the author of the Newbery Honor book One Came Home, as well as the middle-grade novel That Girl Lucy Moon and picture book The Dirty Cowboy, winner of the Golden Kite Award. Amy has worked as a book reviewer, columnist, and children's bookseller. She grew up in a small town in Wisconsin, and now lives in Chicago. Visit her at AmyTimberlake.com.
---
RSVP
Bookings are closed for this event.