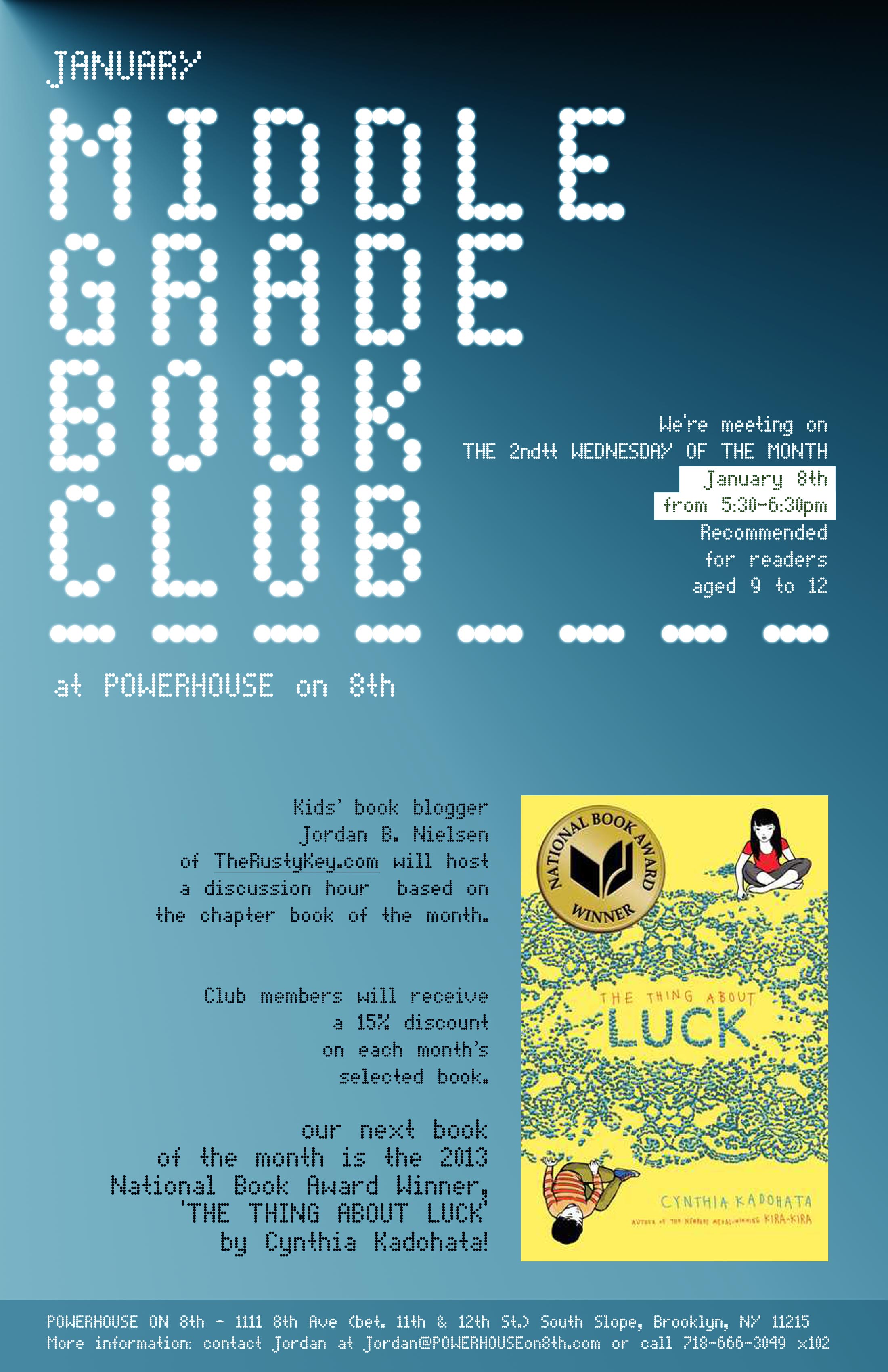 Wednesday Jan 08, 2014
5:30 pm - 6:30 pm
POWERHOUSE on 8th [Park Slope]
1111 8th Ave
Brooklyn, NY 11215
Ages 9-12
For more information, please call 718-801-8375
RSVP appreciated: RSVP@POWERHOUSEon8th.com
---
Kids' book blogger Jordan B. Nielsen of TheRustyKey.com will host a discussion hour based on the chapter book of the month. Club members will receive a 15% discount on each month's selected book. January's selection is The Thing About Luck by Cynthia Kadohata.
About THE THING ABOUT LUCK:
Summer knows that kouun means "good luck" in Japanese, and this year her family has none of it. Just when she thinks nothing else can possibly go wrong, an emergency whisks her parents away to Japan—right before harvest season. Summer and her little brother, Jaz, are left in the care of their grandparents, who come out of retirement in order to harvest wheat and help pay the bills.
The thing about Obaachan and Jiichan is that they are old-fashioned and demanding, and between helping Obaachan cook for the workers, covering for her when her back pain worsens, and worrying about her lonely little brother, Summer just barely has time to notice the attentions of their boss's cute son. But notice she does, and what begins as a welcome distraction from the hard work soon turns into a mess of its own.
Having thoroughly disappointed her grandmother, Summer figures the bad luck must be finished—but then it gets worse. And when that happens, Summer has to figure out how to change it herself, even if it means further displeasing Obaachan. Because it might be the only way to save her family.
About the Author:
Cynthia Kadohata is the author of the Newbery Medal–winning book Kira-Kira, the Jane Addams Peace Award and Pen USA Award winner Weedflower, Cracker!, Outside Beauty, A Million Shades of Gray, and several critically acclaimed adult novels, including The Floating World. She has published numerous short stories in such literary journals as The New Yorker, Ploughshares, Grand Street, and the Mississippi Review. She lives with her son and dog in West Covina, California.
---
RSVP
Bookings are closed for this event.