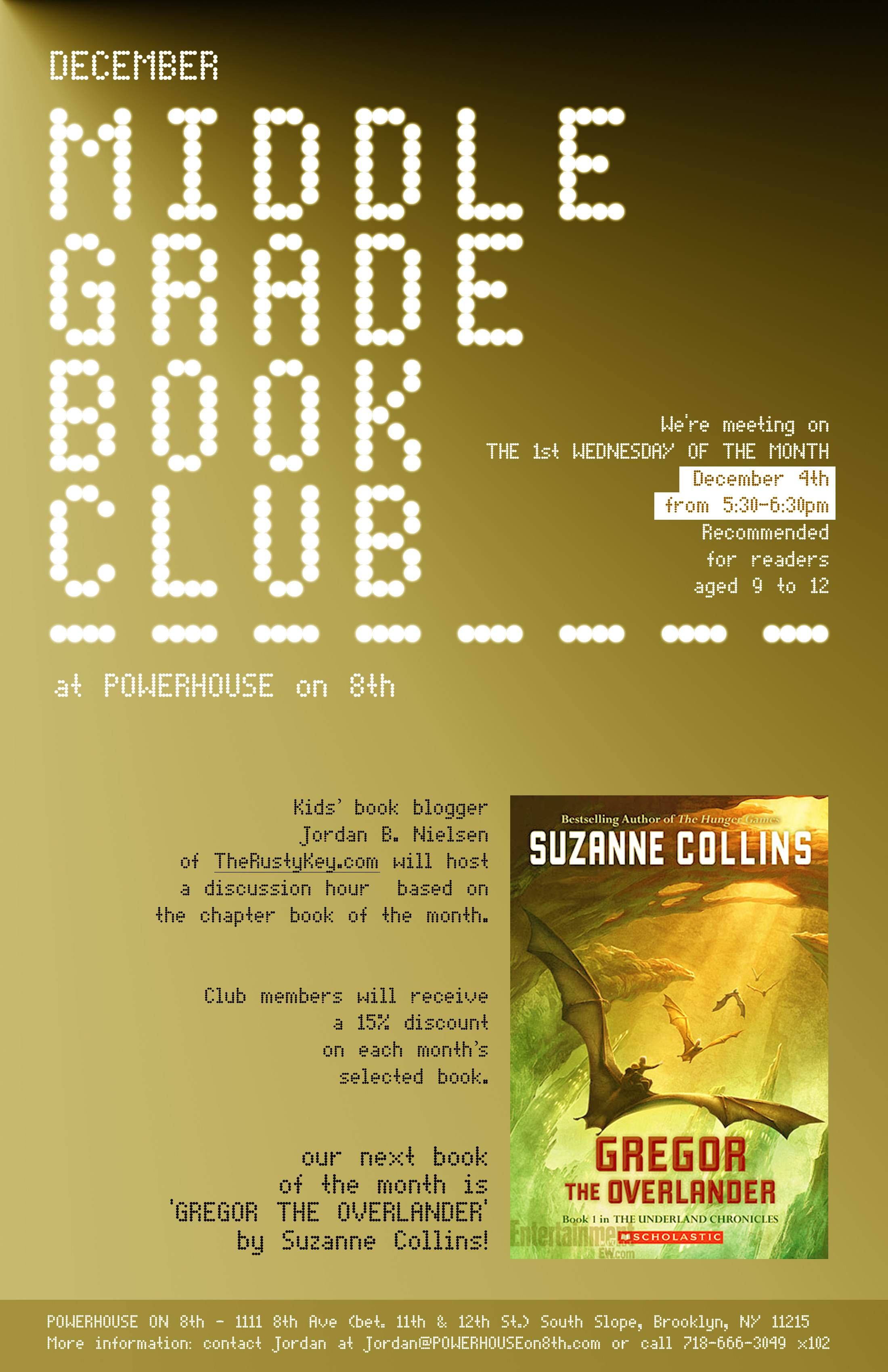 Wednesday Dec 04, 2013
5:30 pm - 6:30 pm
POWERHOUSE on 8th [Park Slope]
1111 8th Ave
Brooklyn, NY 11215
Ages 9-12
For more information, please call 718-801-8375
RSVP appreciated: RSVP@POWERHOUSEon8th.com
---
Kids' book blogger Jordan B. Nielsen of TheRustyKey.com will host a discussion hour based on the chapter book of the month. Club members will receive a 15% discount on each month's selected book. October's selection is Gregor the Overlander by Suzanne Collins.
About GREGOR THE OVERLANDER:
In the first novel of the New York Times bestselling series by Suzanne Collins, author of The Hunger Games, young Gregor falls through a grate in the laundry room of his apartment building and hurtles into the dark Underland. This strange world is on the brink of war, and Gregor's arrival is no accident. A prophecy foretells that Gregor has a role to play in the Underland's uncertain future. Gregor wants no part of it–until he realizes it's the only way to solve the mystery of his father's disappearance. Gregor embarks on a dangerous adventure that will change both him and the Underland forever.
About the Author:
Suzanne Collins is the author of the groundbreaking Hunger Games trilogy for young adults: The Hunger Games, Catching Fire, and Mockingjay. She is also the author of an upcoming picture book, Year of the Jungle, and the New York Times bestselling Underland Chronicles series for middle grade readers, which started with Gregor the Overlander. Suzanne lives with her family in Connecticut. You can find her online at suzannecollinsbooks.com.
---
RSVP
Bookings are closed for this event.