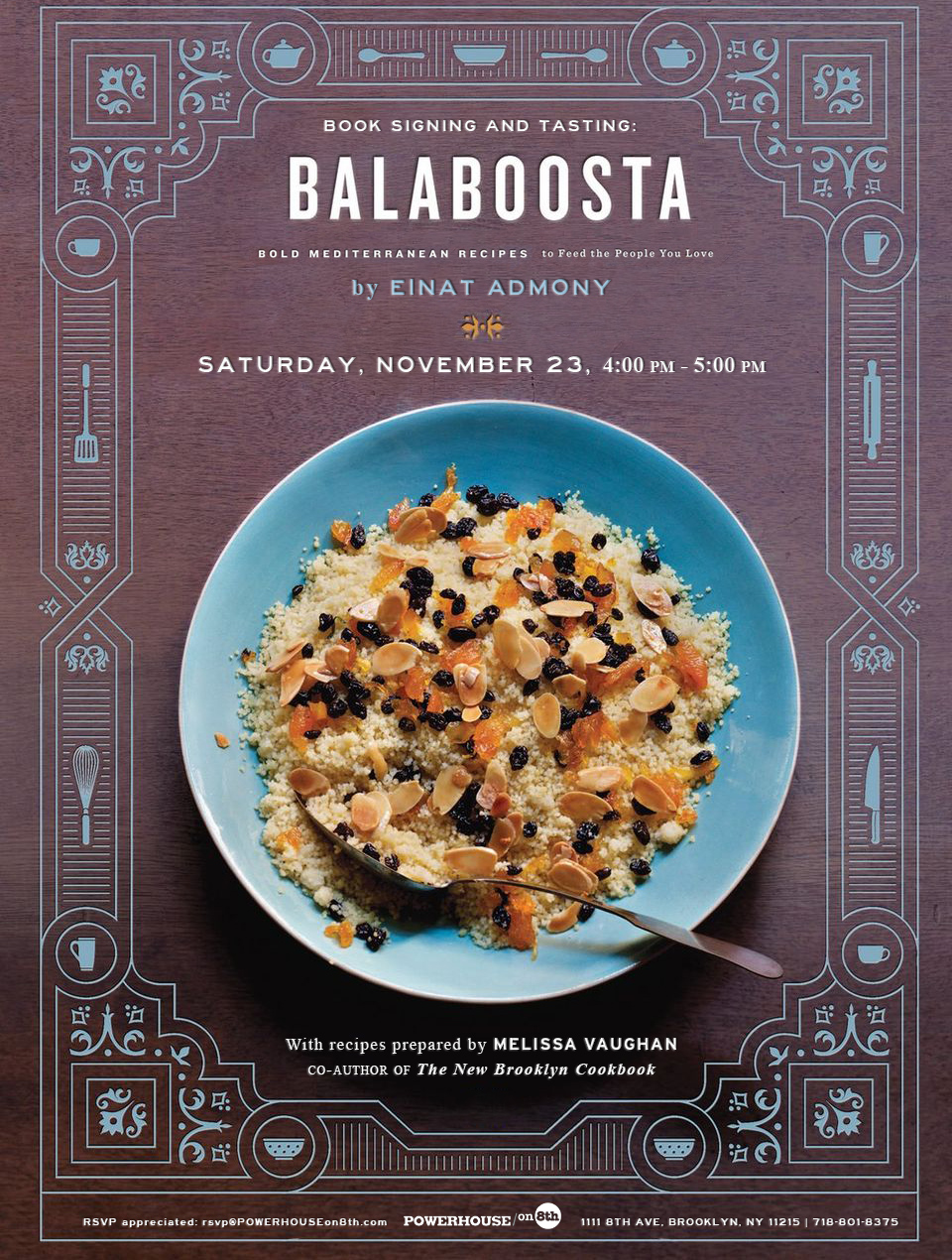 Saturday Nov 23, 2013
4:00 pm - 5:00 pm
POWERHOUSE on 8th [Park Slope]
1111 8th Ave
Brooklyn, NY 11215
For more information, please call 718-801-8375
RSVP appreciated: RSVP@POWERHOUSEon8th.com
-or-
Please fill out the "Bookings" form at the bottom of this page.
---
Melissa Vaughan (The New Brooklyn Cookbook) prepares wonderful dishes using recipes from BALABOOSTA, the cookbook inspired by the NYC restaurant of the same name. Einat Admony will also be on-hand to sign books.
About BALABOOSTA:

Einat Admony is a 21st century balaboosta (Yiddish for "perfect housewife"): the Chopped and Throwdown with Bobby Flay veteran is a mother of two and chef-owner of three New York City restaurants who still loves to cook and entertain at home several times a week. As Publishers Weekly notes, Einat's first book "redefines [the term] as anyone who lives with gusto, relies on instinct, and expresses emotion through food." The 143 chatty and easy-to-follow recipes in BALABOOSTA reflect her mixed Israeli heritage (Yemenite and Persian) and her sophisticated Mediterranean palate.
Einat navigates her daily life on a bright pink Vespa. Her stories in BALABOOSTA are similarly gutsy—and refreshingly honest. Divided by moments in a woman's life—Hurry, Hurry, Hurry: Quick and Easy Meals; Fat Like Me: Healthier Options; Just the Two of Us: Romantic Dishes; and more—the chapters focus on the spreads, salads, stews, and sweets she makes for her friends and family at home. She also includes recipes for her restaurants' most popular dishes.
Each chapter begins with a narrative that infuses the recipes with a sense of time and place. The subtlety and warmth of the chicken and rice stew rekindles the memory of cooking next to her mother, dipping her finger in the pot to taste the broth. The intense and spicy layers of flavor in her Beef Tartare with Harissa  are a metaphor for the ever-evolving sensuality in her married life. The precision with which she runs her restaurants shines in her award-winning Sunchoke Soup with Crispy Chestnuts.
About the Author and Contributor: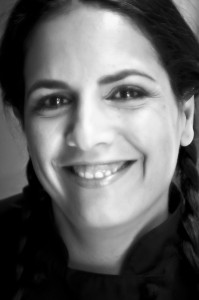 Einat Admony is chef-owner of New York City's popular Balaboosta, Taim, and Bar Bolonat restaurants. She lives with her husband and two children in Brooklyn.
Melissa Vaughan, co-author of The New Brooklyn Cookbook, is a recipe developer and tester whose work has appeared in magazines (Real Simple, Cookie, Saveur, Every Day with Rachael Ray) and cookbooks by Daniel Boulud, Michael White, and Melissa Clark. She is a graduate of the Institute of Culinary Education.
---
RSVP
This event is fully booked.