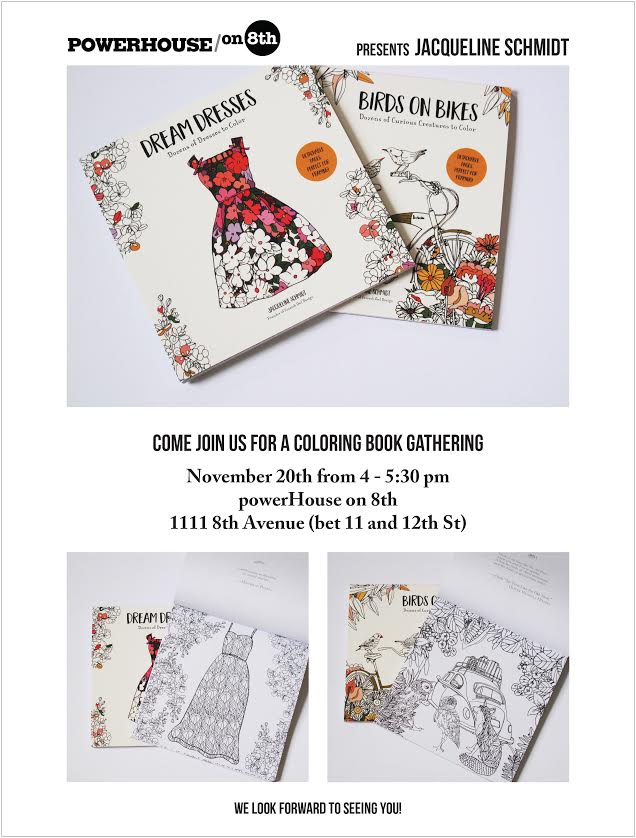 Sunday Nov 20, 2016
4:00 pm - 5:30 pm
POWERHOUSE on 8th [Park Slope]
1111 8th Ave
Brooklyn, NY 11215
All ages welcome
For more information, please call 718-801-8375
RSVP appreciated: RSVP@POWERHOUSEon8th.com
---
Join us for a relaxing afternoon of coloring, for adults and children alike! We'll have coloring sample pages from Jacqueline Schmidt's brand-new coloring books. Afterwards, we'll also have a story-time for the kids featuring a reading from her Patchwork picture books.
About Birds on Bikes and Dream Dresses:
From popular illustrator and art therapist Jacqueline Schmidt comes two gorgeous new adult coloring activity books designed to create calm and inspire creativity: BIRDS ON BIKES and DREAM DRESSES.
These whimsical dress designs and birds on bikes featuring her trademark patterns and animal visitors in the background await your personal touch of vibrant color. Tranquil poems about nature are interspersed between illustrations in BIRDS ON BIKES from poets such as Emily Dickinson, Elizabeth Enright, and Paulo Coehlo, and DREAM DRESSES is filled with stylish quotes from various fashion industry elites such as Christian Dior, Gabrielle "Coco" Chanel and Gianni Versace. High quality paper and removable pages make these images ideal for giving and framing.
Schmidt is an award-winning artist and bestselling stationary designer, and she's certified with a MFA in creative art therapy and early childhood development. Her immediately recognizable style has made her creative designs popular throughout North America.
Schmidt also founded the company Screech Owl Design that specializes in stationery, prints, and more. All of her work is hand-drawn and is in stores around the globe, including major chains such as Papyrus and Anthropologie. Her work has also been featured in The Wall Street Journal, New York Magazine, The New York Times, and more.
So relax and discover the calming pleasure of coloring her creative images that blend the urban and natural, the real and fantastic, and the familiar with the mysterious.
About the Author: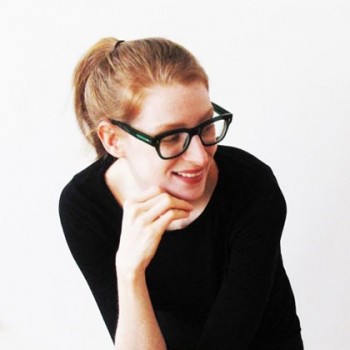 Jacqueline Schmidt is an artist, stationery designer, the author and illustrator of two picture books for children, and the creative force behind Screech Owl Design. Her immediately recognizable style has made her whimsical depictions of natural and urban imagery (birds on bicycles is a recurring motif) popular as stationery, prints, and textiles at retailers throughout North America, including Anthropologie, Papyrus, and many more. She has an MFA in creative arts therapy and early childhood development and is the former creative director for Moomah. Jacqueline grew up in New York City, and now makes her home in Brooklyn, NY, with her beloved husband, son, and cat. 
RSVP
Bookings are closed for this event.