Wednesday Apr 03, 2013
7:00 pm - 9:00 pm
THE POWERHOUSE ARENA [Dumbo]
28 Adams Street
Brooklyn, NY 11201
For more information, please call 718.666.3049
RSVP appreciated: RSVP@powerHouseArena.com
-or-
Please fill out the "Bookings" form at the bottom of this page.
---
Fiona Maazel (Last Last Chance) launches her second novel, a suspenseful investigation of one man's attempt to cure loneliness.
About the Book:
Fans of Sam Lipsyte, Jennifer Egan, Lauren Groff, and Karen Russell will find much to love in Woke Up Lonely, Fiona Maazel's comic, lacerating, and wholly unpredictable first novel since being named a National Book Foundation "5 Under 35."  Woke Up Lonely is centered around Thurlow Dan, the charismatic founder of the Helix, a cult based on the idea that everyone is lonely and that the only way to avoid emptiness is through connection. As a result, the Helix sponsors speed-dating, rallies, communes, and a Facebook-like website designed to prevent loneliness via oversharing. But Thurlow, camped out in his Cincinnati headquarters, is lonely. And his ex-wife, CIA covert agent Esme, is the only one he wants. Through a series of well-intentioned missteps in the name of earning back Esme's love, Thurlow finds himself at the center of a hostage situation with nowhere to run. Fiona Maazel takes us down the rabbit hole of what it means to be lonely in the age of the Internet, in which none of us are ever truly alone. Ambitious, grandiose and pulse-stopping, Woke Up Lonely leads us to the brink of disaster—and after a moment's introspection, plunges headlong into the maelstrom.
About the Author: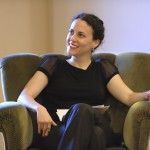 Fiona Maazel, author of Last Last Chance, is winner of the Bard Prize for Fiction. Her work has appeared in BOMB, Bookforum, N+1, the New York Times Book Review, Tin House, and many other publications. She teaches at Brooklyn College, New York University, Princeton, and Columbia, and was appointed the Picador Guest Professor at the University of Leipzig, Germany. Maazel lives in Brooklyn, NY.
---
For more information, please contact
Julie Buntin, Events Coordinator
email: julie@powerhousearena.com
powerHouse Arena, 37 Main Street, Brooklyn, NY 11201
tel: 212-604-9074 x109
RSVP
Bookings are closed for this event.