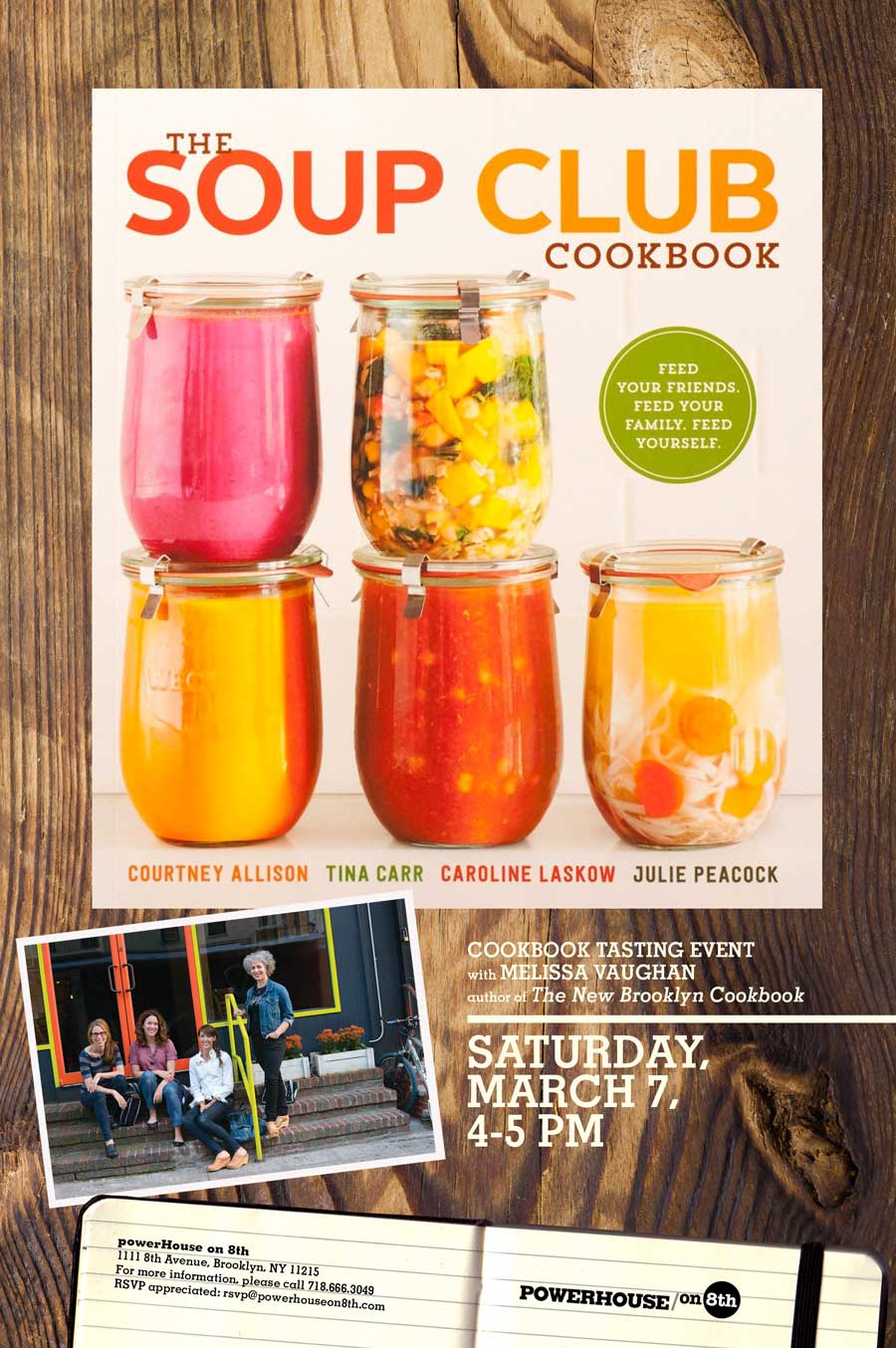 Saturday Mar 07, 2015
4:00 pm - 5:00 pm
POWERHOUSE on 8th [Park Slope]
1111 8th Ave
Brooklyn, NY 11215
For more information, please call 718.666.3049
RSVP appreciated: RSVP@powerHouseArena.com
-or-
Please fill out the "Bookings" form at the bottom of this page.
---
Meet the four friends and their food-sharing formula for starting a soup club and taste a soup or two from their brand-new cookbook.
About The Soup Club Cookbook:
Who doesn't want a delicious, home-cooked meal magically delivered at the end of a busy day? But work, kids, and life get in the way, even in the most well-intentioned homes. Enter: The Soup Club Cookbook: Feed Your Friends. Feed Your Family. Feed Yourself, in which four friends show how to make this fantasy a reality with 150 fantastic recipes for soups, dozens of delicious sides, and tips for cooking in quantity.
Food-sharing can be a stellar antidote to restaurant-prepared meals. The Soup Club's idea is to join with friends (at work, at the gym, in your neighborhood, anywhere!) and make a plan in which each person makes dinner once a month for the whole group. That gives you three evenings each month when you don't even have to think about making dinner (and even more meals when you consider leftovers). In addition to recipes for soup, The Soup Club Cookbook also features how-tos for setting up your own soup club, as well as recipes for welcome extras to round out a meal, from pestos to grains to hearty salads.
Ranging from classic to more innovative, some of the soup, salad, and side recipes featured in the book include:
SOUPS: Chickpea, Roasted Squash, and Farro Soup; Winter Corn Chowder; Salmon Soup in White Broth; Saffron Seafood Chowder; Jewish Chicken Noodle Soup; Beef Mole Chili; Chicken and Andouille Gumbo
SALADS & VEGETABLES: Winter Caesar Salad; Butter Lettuce and Radish Salad; Maple Butter Carrots; Kimchi; Braised Leafy Greens with Egg
BREADS, GRAINS & PASTAS: Cheddar Cornbread; Squash Bread; Coconut Wheat Berries with Herbs
BIG FOOD: Soy-Simmered Chicken Wings; Porchetta-esque Pork Butt with Quick Pan Sauce; Zucchini and Sun-dried Tomato Lasagna
COOK'S SNACKS: Water Chestnut Dip; Honey, Ricotta, and Black Pepper Bruschetta; Potato Tortilla
About the Authors:
Courtney Allison, Tina Carr, Caroline Laskow, and Julie Peacock live in New York City. They have been sharing food for many years, and this is their first cookbook.