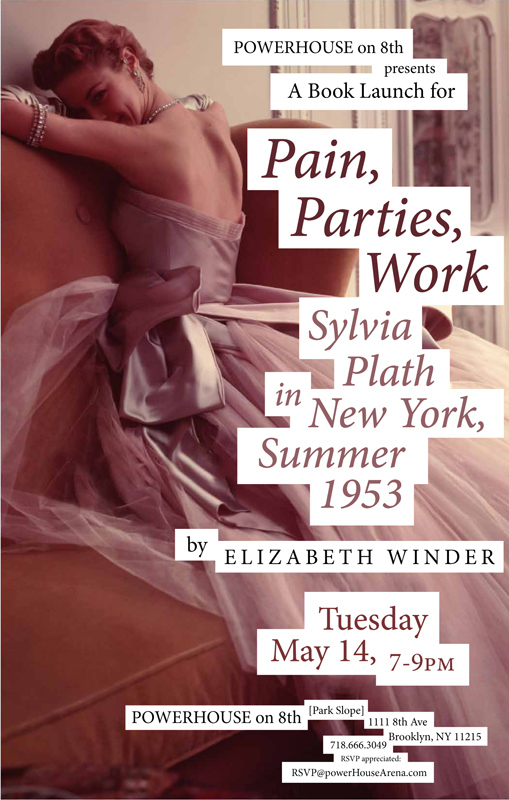 Tuesday May 14, 2013
7:00 pm - 9:00 pm
POWERHOUSE on 8th [Park Slope]
1111 8th Ave
Brooklyn, NY 11215
For more information, please call 718-801-8375
RSVP appreciated: RSVP@POWERHOUSEon8th.com
-or-
Please fill out the "Bookings" form at the bottom of this page.
---
Elizabeth Winder discusses her riveting portrait of Sylvia Plath, through the lens of the year she spent in New York. Drinks and light refreshments will be served.
About PAIN, PARTIES, WORK:
Five decades after her suicide, the image of Sylvia Plath as a demon-plagued poetess is firmly embedded in our collective consciousness, even as this cliché leaves so much of her story untold. Now, in PAIN, PARTIES, WORK: Sylvia Plath in New York, Summer 1953 (Harper; April 16, 2013; $25.99; Hardcover), author Elizabeth Winder ventures beyond the legendary persona and takes an in-depth look at the pivotal month that helped define Plath as a woman and as a writer—and would later inspire The Bell Jar.
Published to coincide with the 50th anniversary of Plath's death and the 60th anniversary of that summer, PAIN, PARTIES, WORK—words Plath used to describe those New York days in her journal—examines this critical period in her life when she stayed at the famed Barbizon Hotel and interned at Mademoiselle with 19 other girls as guest editors on the magazine's annual college issue.
Investigating the events and experiences of that month, Winder mines fascinating new ground as she draws from her recent interviews with many of Plath's fellow interns—who share their memories and impressions of Plath—and dispels several enduring myths in the process. The revealing portrait that emerges here is of a vibrant, ambitious, vulnerable, playful, highly social young woman on the brink of adulthood, hungry for knowledge, deeply appreciative of beauty, and interested in material pleasures like clothing, makeup, and food. This tan, blond, red-lipped Sylvia inhales caviar (leaving none for her dining companions), juggles boyfriends, attends fashion shows, stakes out her hero Dylan Thomas's hotel room, and throws her wardrobe off of the Barbizon's roof in a tipsy farewell on her last night in the city. Although she is dedicated to her job, she is really there to live.
As Winder demonstrates, so much changed for Sylvia Plath during that June—her relationships with men, her female friendships, her physical appearance, her sense of style, and her identity as a writer—and capturing that moment in time, as PAIN, PARTIES, WORK does so masterfully, is essential for a better understanding of the person and the artist who would go on to become a literary icon.
About ELIZABETH WINDER:
Elizabeth Winder is the author of one poetry collection, and her work has appeared in the Chicago Review, the Antioch Review, American Letters, and other publications. She is a graduate of the College of William and Mary and earned an MFA in Creative Writing from George Mason University. She lives in Virginia Beach, Virginia.
---
For more information, please contact:
Julie Buntin, Events Coordinator
powerHouse Arena, 37 Main Street, Brooklyn, NY 11201
tel: 212-604-9074 x109
RSVP
Bookings are closed for this event.