Wednesday Jan 09, 2013
7:00 pm - 9:00 pm
THE POWERHOUSE ARENA [Dumbo]
28 Adams Street
Brooklyn, NY 11201
Drinks will be served
The powerHouse Arena · 37 Main Street (corner of Water & Main St.) · DUMBO, Brooklyn
For more information, please call 718.666.3049
RSVP appreciated: RSVP@powerHouseArena.com
Local favorite Grant Ginder (author of This is How it Starts) launches his latest. Join us for a reading from Driver's Education, a novel Booklist called "lively, funny, gritty, and achingly real" in a starred review.
About Driver's Education:
DRIVER'S EDUCATION, the second novel from Grant Ginder, is an eccentric portrait of three generations of McPhee men and the power of their fantastic stories—which blur the boundaries of fiction, reality, and truth—to unite them. It's "the kind of book that will make other young writers crumple their manuscripts and unplug their computers," says National Book Critics Circle Award winner Darin Strauss, author of Half a Life and Chang and Eng, calling it "a meticulously observed family story; a social fiction that involves everything from reality TV to truth-telling in the Internet age; funny and sad, smart and exciting." The novel combines the twists, turns, and magic of a perfect road trip with the joy, resentment, and deep love that hold a grandfather, father, and son together.
Finn thought his grandfather's story—all of his stories—were over by now. But when the dying man phones from San Francisco with a strange request, Finn is given the chance to go on one of the great Alastair McPhee's adventures. Once, Alastair roamed the country in a beloved, tetchy '56 Bel Chevy Air named Lucy, getting into trouble and collecting stories that have since taken on the status of myth. Now he wants Finn to find the old car in New York City and bring her to him, revisiting the sites of those exploits along the way. "She's in Chinatown with a man named Yip," Alastair whispers.
The McPhee men are fabulists almost by nature. For years, Alistair amused barroom audiences with yarns about taking shelter from a wrecking ball inside a makeshift house built of records, catching Ernie Banks' 500th home run, and falling in love with a beautiful pilot who gave up her chance at fame and decided to never grow old. While he was out wandering, mourning a wife who died too soon, his son Colin raised himself, turning a devotion to movies into a career as a screenwriter—a career that stalled after a single breakout success.
Now Colin's son Finn works as an editor on a past-its-prime reality show, piecing together real-life footage to fabricate drama and romance. It was Finn who discovered his grandfather after the old man had a stroke, Finn who might have been there in time to help if he hadn't missed his train. So, with his friend Randal and a startlingly spry fifty-year-old, three-legged cat named Mrs. Dalloway, he leaves Manhattan in Lucy, following a map sketched by Alistair.
At the same time, Colin tries to care for the ailing father who never took the time to care for him. Long ago, he unearthed the truth about Alistair's stories, and what he learned sent him veering in the opposite direction. But traces of the past stay stuck to him, memories of a boy who snuck into a classic movie house before its grand opening and then mysteriously disappeared, and of a would-be actress who could smoke like Rita Hayworth and kiss like Ingrid Bergman, but got lost trying to be herself.
"If there was one thing my father taught me, it was that endings never work out the way you want them to," Colin writes. But on this exquisitely crafted journey, Colin and Finn learn that their stories are bigger than the mundane facts behind them. And that endings can be rewritten—and in the rewriting, they can become far more true.
About the Author: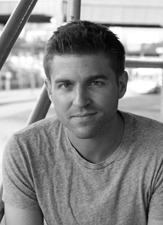 Grant Ginder is the author of This Is How It Starts. He received his MFA from NYU and lives in New York City.