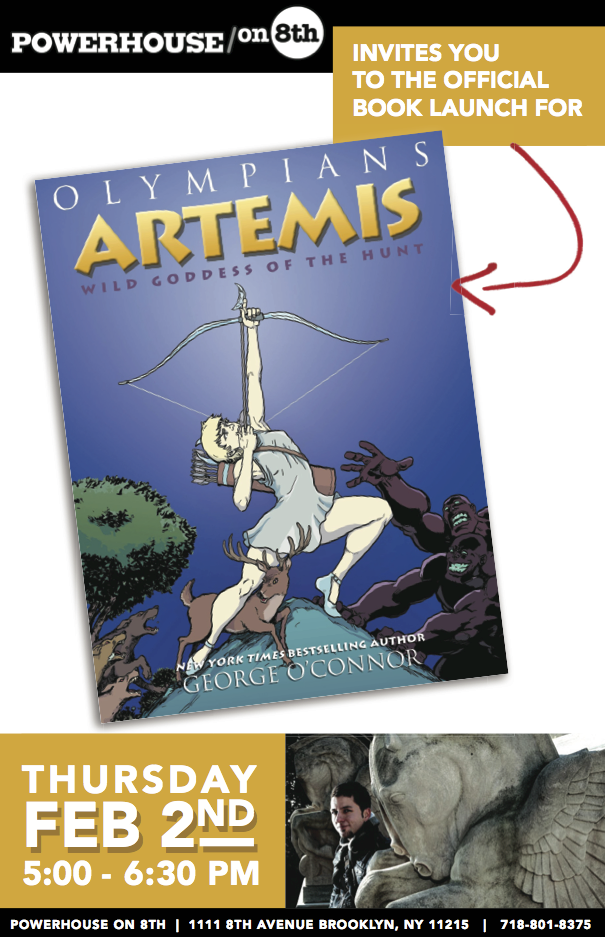 Thursday Feb 02, 2017
5:00 pm - 6:30 pm
POWERHOUSE on 8th [Park Slope]
1111 8th Ave
Brooklyn, NY 11215
Join us to celebrate the book release of the newest installment of the highly popular OLYMPIANS series created by George O'Connor: ARTEMIS. A unique opportunity to meet George O'Connor and get a signed copy of this exciting new release.
---
About Artemis: Wild Goddess of the Hunt:
Shunned even before she was born and destined to live a life of solitude, Artemis, Goddess of the Hunt, finds power through her skilled hunting ability and mighty bow. She slays those who wish to do harm to the innocent and takes care of the young and helpless. She protects women and young girls, helps in childbirth, soothes, and is unrivaled in her hunting abilities. In the latest volume of Olympians, New York Times–bestselling author George O'Connor continues to turn his extensive knowledge of the original Greek myths into rip-roaring graphic novel storytelling.
About the Author:
George O'Connor is a New York Times-bestselling author and illustrator of the Olympians series as well as such graphic novels as Journey into Mohawk Country and Ball Peen Hammer. In addition to his graphic novel career, Mr. O'Connor has published several children's picture books. He lives in Brooklyn, New York. olympiansrule.com
RSVP
Bookings are closed for this event.