Thursday Apr 04, 2013
7:00 pm - 9:00 pm
THE POWERHOUSE ARENA [Dumbo]
28 Adams Street
Brooklyn, NY 11201
For more information, please call 718.666.3049
RSVP appreciated: RSVP@powerHouseArena.com
-or-
Please fill out the "Bookings" form at the bottom of this page.
---
Former New Yorker staffer Benjamin Lytal celebrates A Map of Tulsa. This elegiac novel—think Mysteries of Pittsburgh and The Great Gatsby—is a love letter to summer, youth, falling in love, and a classic American city.
About the Book:
From a former New Yorker staffer comes an astonishing literary debut in the tradition of Michael Chabon's Mysteries of Pittsburgh: A MAP OF TULSA by Benjamin Lytal follows the story of Jim Praley and Adrienne Booker: from the summer they fall in love amidst the art and music scene of late 90s Tulsa, to Jim's bracing, unexpected homecoming years later.
After a year of college on the East Coast, Jim Praley returns to Tulsa for the summer, ready to disappear into his self-appointed reading regimen. Instead he meets Adrienne Booker: the abandoned daughter to a local oil fortune, 18 years old and living an independent, mysterious life in the family penthouse, with only her aunt Lydie occasionally looking after her. Adrienne is way out of Jim's league, but somehow, as an unlikely couple, they click.
The relationship that unfolds defines the shape of Jim's life to come. Through Adrienne's eyes he sees the strange beauty of his hometown for the first time: they drink, they dance, they write and paint and sing.  College feels very remote; the anonymous skyscrapers downtown have never looked better. Jim must return to college in September, but he is haunted by Adrienne. His literary ambitions lead him to New York after graduation, and he expects to see her around every corner. When tragedy strikes, Jim finds himself on a plane, Tulsa-bound.
A rich, atmospheric vision of a great American oil city, A MAP OF TULSA is a large-hearted novel that captures the euphoria and magnetic bonds of first love and announces the arrival of a major new talent in literary fiction.
About the Author: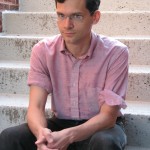 Benjamin Lytal has written for the Wall Street Journal, the London Review of Books, the Los Angeles Times, Bookforum, the Believer, McSweeney's, Fence, the Daily Beast, and the Nation. For four years he wrote the New York Sun's "Recent Fiction" column. Originally from Tulsa, Lytal currently lives in Chicago.
---
For more information, please contact
Julie Buntin, Events Coordinator
email: julie@powerhousearena.com
powerHouse Arena, 37 Main Street, Brooklyn, NY 11201
tel: 212-604-9074 x109
RSVP
Bookings are closed for this event.