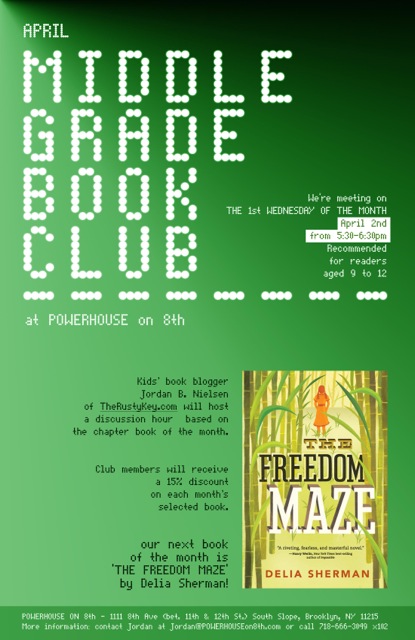 Wednesday Apr 02, 2014
5:30 pm - 6:30 pm
POWERHOUSE on 8th [Park Slope]
1111 8th Ave
Brooklyn, NY 11215
Category(ies)
Ages 9-12
For more information, please call 718-801-8375
RSVP appreciated: RSVP@POWERHOUSEon8th.com
---
Kids' book blogger Jordan B. Nielsen of TheRustyKey.com will host a discussion hour based on the chapter book of the month. Club members will receive a 15% discount on each month's selected book. April's selection is The Freedom Maze by Delia Sherman.
About The Freedom Maze:
Thirteen-year-old Sophie isn't happy about spending the summer of 1960 at her grandmother's old house in the bayou. Bored and lonely, she can't resist exploring the house's maze, or making an impulsive wish for a fantasy-book adventure with herself as the heroine. What she gets instead is a real adventure: a trip back in time to 1860 and the race-haunted world of her family's Louisiana sugar plantation. Here, President Lincoln's Emancipation Proclamation is still two years in the future and passage of the Thirteenth Amendment is almost four years away. And here, Sophie is mistaken, by her own ancestors, for a slave.
About the Author:
Delia Sherman was born in Japan and raised in New York City but spent vacations with relatives in Texas, Louisiana, and South Carolina. Her work has appeared most recently in the young adult anthologies The Beastly Bride: Tales of the Animal People; Steampunk! An Anthology of Fantastically Rich and Strange Stories; and Teeth: Vampire Tales. Her novels for younger readers include Changeling and The Magic Mirror of the Mermaid Queen. She lives in New York City.
---
RSVP
Bookings are closed for this event.